Uncategorized
Q&A – Dean Norris (Hank Schrader)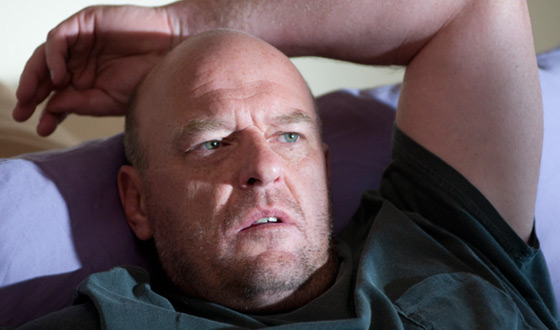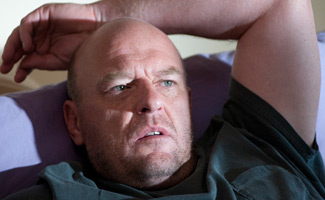 Dean Norris plays Walter White's brother-in-law, DEA agent Hank Schrader, on Breaking Bad. In an exclusive interview with AMCtv.com, the actor talks about learning to play a paraplegic, Hank's fixation with minerals, and going out for a bender with the crew.
Q: You've talked a lot in the past about training to play a cop. Tell me a little bit about training to play a paraplegic. What's that like?
A: Yeah, it's not quite as fun. I ended up talking to several people who had lost motor ability, just to kind of get a feel for what that was. We had a medical technician on set, and she's the one I've kind of worked with the most in terms of how do you move or not move. You know, it's tough: Hank's physicality was a big part of who he was, so to have lost that has made him bitter. Unfortunately the wife is the only one around to bear the brunt of the bitterness.
Q: Hank is a pretty believable uncle, always quick with a quip or a dirty joke. Are you an uncle yourself?
A: [Laughs] As a matter of fact, I am an uncle. I have nine nephews and nieces. I'm not sure if they think I'm all that quick with a quip. But I'm quick with a spank. [Laughs]
Q: What do you think Hank's fixation with minerals is all about? Do you have a hobby or passion like that?
A: I have no hobbies along those lines. I used to collect coins and beer cans. I lived close to Notre Dame and all these people coming from out of town would bring strange beer cans and I'd go around and collect them. Not full, unfortunately. I'm not sure about what those minerals mean; I think it was just the furthest thing from cop work that Hank can come up with. Cataloging those minerals kind of gave him some order to the chaos of his life.
Q: One of my favorite scenes of Season 4 [from Season 4 Episode 7, "Problem Dog"] is when Hank convinces an incredulous ASAC Merkert and Gomez that Gus may indeed be connected to the elusive blue meth by showing him fingerprints from Gale's apartment.
A: Yeah that was a lot of fun actually. A little inside story on that: it's a four page monologue, all information and exposition. When I saw it I was like, I should have renegotiated my deal for Season 4, made 'em pay for it! I worked on the scene with my wife to get the words down, and I rehearsed it from beginning to end, word for word, eight times or more. And I nailed it! We had a whole afternoon planned to shoot it, and we were done literally three hours early. So I said, alright, since we're done and I clocked you guys three hours, we're all going out. I got the show to give me a driver, and I went to a local bar with Michael Shamus [who plays Merkert]. The crew came out, and Mr. Merkert and I proceeded to do a number of shots and beers and had a good night. And we finished at the time we would have been done.
Q: You starred in the original Total Recall and Bryan Cranston will be starring in the new one. Have you given him any advice or guidance?
A: I gave him some shit. I told him that he should not worry about remaking any iconic Arnold Schwarzenegger classics from the '90s. I'm sure yours will be just as good, that's what I told him.
Q: We've begun see Hank really becoming a driving force again in pursuit of Gus. You must be happy to see Hank getting back into it?
A: Certainly I am. It's definitely more fun to be central to the plot than kind of pining away or whining in your bedroom by yourself with some minerals and porn. Although the porn's not so bad. Hank doesn't quite have the zest that he had in Season 1 and Season 2, but he's trying to get back to it. And it's kind of an interesting dynamic in the writing, Hank trying to reclaim that element of this personality.
Click here to read an interview with Betsy Brandt, who plays Marie Schrader
Read More