Uncategorized
Q&A – Christopher Cousins (Ted Beneke)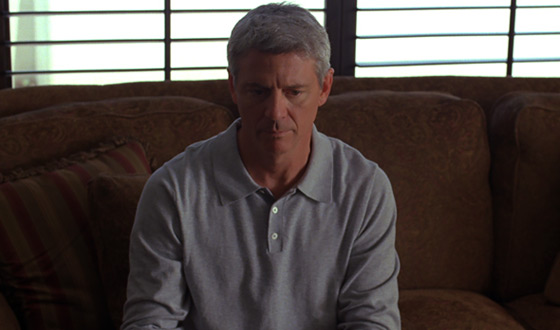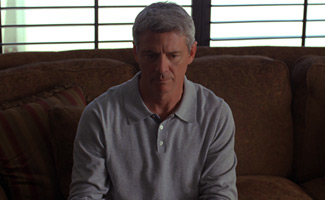 Christopher Cousins plays Skyler's former boss Ted Beneke on Breaking Bad. In an exclusive interview with AMCtv.com, the actor talks about his character's loneliness, and how working on the set is like running with racehorses.
Q: Ted tries to run away and trips on a rug in Season 4 Episode 11, "Crawl Space." Was that a stunt man?
A: The guy who slid on the floor was a stunt man. I had spinal surgery right around Christmas, so really all I could do was trip. I ran and kind of fell forward, but that whole thing where he hit the ground and slipped wasn't me — I was only four months out of major surgery, so I had to be very careful.
Q: Is there a Hollywood strategy to falling comfortably?
A: When I did [the TV series] Terriers I did all that stuff except for the actual car hitting. You pad up and you're trained to take your fall with the hands. It depends though, each fall has a different kind of technique.
Q: Ted has had some incredibly tense scenes with Skyler this season. Did you two practice creating tension off camera?
A: I'll say this: We started to talk a little bit at one point about really what was going on in our character's minds, but we eventually both decided not to do that. The writing is so amazing that literally you're discovering things in the scene together as it goes. We could have shot those scenes for two more days and found all these different ways to do it. When I'm working with her, it's like fencing, you know. You step on the set with Anna Gunn or Bob Odenkirk and it's like running with racehorses — you run faster. So we kind of prepped separately and then let it happen.
Q: You've said before that acting led you to a deeper awareness of yourself. How has this been true with your portrayal of Ted Beneke?
A: To me, Ted is one of the loneliest characters I've ever played. That house is a lonely place to be, his bedroom, his office, everything. I think, I can identify with that sometimes.
Q: Ted is arguably one of the better-dressed characters on the show. Is Ted's style like your own?
A: No I hang out in T-shirts and jeans — I'm a painter. I've never been a businessman, but I always play professional, wealthy people. I am a professional person, but believe me, I'm not that wealthy.
Q: Ted leases a car so he can feel like an important businessman again. If you lost everything you owned, what's the first thing you would go out and buy so you felt like you again?
A: I spend most of my money on art supplies! Listen though, just to defend Ted, it's important in many instances to project the image of success; it's the world we live in. Like years ago, when I was younger, my agent used to always get mad at me because my hair was kind of shaggy. They were always like, you've got to dress better and cut your hair. I ended up being more aware of how I presented myself in auditions, and I'm sure it helped.
Q: You've said before that you've often gotten typecast as a nice guy with a dark side. Ted Beneke is no different. Do you find your role on Breaking Bad has changed the types of characters you're being offered?
A: I'm so grateful for this particular job because before I got it, I was feeling a little complacent about my career. Working with these quality writers and these great actors has sort of woken me up a bit,as an artist. I've had to dig deeper and my game has had to get better as an actor. So since I started this job, I feel like I have been playing more interesting people. There's been more depth to my work.
Click here to read an interview with Anna Gunn, who plays Skyler White
Read More