What You're Saying About Breaking Bad's Renewal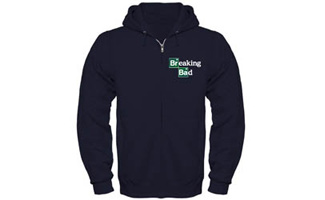 Throughout Breaking Bad Season 4, AMC will award Talk Forum commenters quoted in our weekly "What You're Saying" post with prizes (limit one per person).This week, commenters will receive Breaking Bad hoodies. Next week: Season 4 posters.
This week's news about Breaking Bad's renewal has fans excited for a fifth season and bittersweet about the series coming to an end. Here's a sampling of what you had to say:
• "I don't know what I will do on Sunday nights after they conclude this show. This is the best show on TV and deserves all the praise it gets. Now I can use my imagination to write the ending for all of the characters." — Cheryl V.
• "I think it is great that they will plan the ending for this show, that way every episode will be even better. It has to end sometime, hate to see it go but I cant wait to see what happens." — Jason G.
• "I'm happy to learn we have several more episodes to look forward to and a definite end point. Now we can be sure the story will be told just the way it's supposed to." — rockmama
Log onto the Talk forum to join in any of these conversations or start a Breaking Bad topic of your own.
Read More