What You're Saying About Walt's Alter-Ego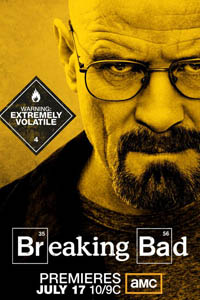 Throughout Breaking Bad Season 4, AMC will award Talk Forum commenters quoted in our weekly "What You're Saying" post with prizes (limit one per person).This week, commenters will receive Season 4 posters. Next week: Season 3 DVD sets.
Walt's confrontation with Skyler in Episode 6, "Cornered," in which his alter-ego briefly emerged, had the fans fearful that Walt's arrogance could mean his downfall.
• "Two lines that will live forever in BB lexicon: 'I am the one who knocks,' And 'Someone has to protect this family from the person who protects this family.'" — superscribe
• "Walt's ego went from 0 to 60 in like 2 seconds." — Faith96
• "How bout' when Walt said that line 'I AM THE DANGER' in his Scarface esque speech to Skyler. Awesome!" — Quebrando Mal
• "The ego now has run amuck!…lol He's dangerously out of control, being a big mouth and instigating Gus." — Reenie
• "Walt/Heis: 'Who do you THINK YOU'RE TALKING TO???' I dunno anymore! I'm scared!" — Tina McPhee
Log onto the Talk forum to join in any of these conversations or start a Breaking Bad topic of your own.
Read More