Uncategorized
Q&A – RJ Mitte (Walter, Jr.)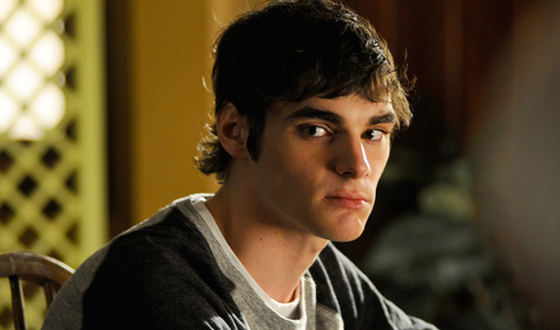 Actor RJ Mitte plays Walter White, Jr. on Breaking Bad. In an exclusive interview with AMCtv.com, he talks about on-set firsts, his passion for travel, and his own automotive aspirations.
Q: What do you think about the idea that a 17-year-old is one of the most reasonable characters on the show?
A: I wouldn't say in all situations, but a lot of times kids can be the most reasonable people around because they don't have the deal with all the drama that goes along with being an adult. Walter Jr. does not have a care in the world, so he can be Walter Jr. His main worry is school and getting through school, but nobody really knows what goes on in Walter Jr.'s life.
Q: Walter Jr. has had a lot of first time experiences throughout Breaking Bad. What are some firsts you've had on set?
A: Actually, the first is Breaking Bad: It's the first TV show I've ever done.
Q: Let's talk a little bit about Season 4, Episode 6. What do you think of Walter Jr.'s selection of a Dodge Challenger?
A: I think he has great taste in cars. I love it. It's everyone's dream car pretty much.
Q: Do you own a car?
A: Not at the moment but I'm thinking about getting a Vespa.
Q: You've previously said that your post-graduation plans involved traveling. Where have you gone?
A: I went to Washington, D.C. I went to Portland, Oregon. Louisiana for a bit. Next week I'll be leaving for New Orleans, and from there I think I'll be going to Cabo.
Q: What was one of your favorite experiences from these trips? How does it relate to your acting?
A: I know one of my favorites right now is Portland. I was filming a movie there and I had such an amazing time. I went to some crazy events there and I definitely think I can bring that to Walter Jr. because you know a 17-year-old is not just going to his friend's house to play video games — he's going to party.
Q: Which of the actors on the show would you like to have a scene with that you really haven't had that much time on camera with?
A: I really want to have a scene with Saul. I love Bob, he's a great guy and he is amazing at his trade. I see him almost everyday on TV doing another character.
Q: Have you ever actually sat down for a meal with Anna Gunn and Bryan Cranston off the set?
A: I did actually. We had dinner in Albuquerque before we left.
Q: Do you ever get to hold Baby Holly on set?
A: I have not had the pleasure of holding Baby Holly. Either Bryan or Anna have Baby Holly, so it's all good.
Q: Vince Gilligan has said that he strives to show the audience something they haven't seen, or they don't see much. How have you tried to do that with your portrayal of Walter Jr.?
A: There's not really too much you can do at the breakfast table, but I try to throw in some interesting things to my character as I'm playing him. There is really a lot that is going on inside the character that's more crazy and troubling. I think once people get into the story of Walter Jr. they're going to see another side of what's going on in his world.
Click here to read an interview with Bob Odenkirk, who plays Saul Goodman
Read More