Press
TV Guide Cheers Betsy Brandt; New York Post Hails Gus Fring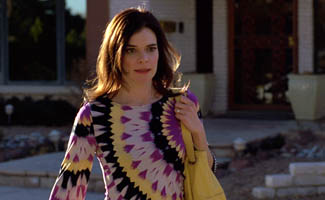 This week Betsy Brandt gets a turn in the spotlight with a Cheer from TV Guide, while the New York Post hails the character of Gus and his portrayer Giancarlo Esposito speaks about Walt's fate to ReelzChannel.
• TV Guide cheers Betsy Brandt (Marie), explaining "Her character might've gotten a bad break, but Brandt's future couldn't be brighter."
• The New York Post compares Giancarlo Esposito's Gus Fring with Peter Sellers' character Clare Quilty in Lolita: "He's only onscreen intermittently, but he's mesmerizing."
• ReelzChannel has a video interview of Giancarlo Esposito discussing Walt's fate: "It has to come crashing down at some point… I guarantee you it's going to be pretty fantastic."
• Dean Norris tells TVLine that Vince Gilligan "has said outright that we're going to deal with that issue of Hank finding out what Walt's up to. I don't think we'll skirt it." Norris also discusses his upcoming guest-star role on CSI:NY.
• HitFix's Alan Sepinwall describes Breaking Bad's Season 4, Episode 6, "Cornered" as "my favorite of the season so far, packed with one great scene after another involving Walt, Jesse, Skyler, Mike and the rest of the gang." Zap2it lists four highlights of the episode.
• The Contra Costa Times cites Breaking Bad in its discussion of shows knowing when to end, explaining that if the AMC drama were to "Continue for too long… there's a danger that things would get too implausible and ludicrous."
• The Orlando Sentinel hopes "young folks in America aren't as lost as Jesse Pinkman on Breaking Bad, but I suspect an unhealthy number of them are."
• TV By the Numbers reports that Breaking Bad's ratings held steady yet again with a 0.7 adults 18-49 rating.
• Hollywood Soapbox reviews Breaking Bad's Season 1, Episode 3, "…And the Bag's in the River," comparing Walt to "Philip Seymour Hoffman's stellar performance in Sidney Lumet's Before the Devil Knows You're Dead."
• Entertainment Weekly reports that Bryan Cranston will voice the character of "a suave Hollywood superspy" in an episode of The Simpsons airing in spring 2012. Hollywood.com remarks about the role, "it's been said if you're asked to do a guest role, you know you've made it." /film sees the news as "cementing [Cranston's] status as the It Guy of the moment."
• Aaron Paul appears in a Funny or Die video called "Quirky Girl," which sends up indie romantic comedies like (500) Days of Summer. Ology comments, "Is it just me or does Aaron Paul totally rock a sweater? Maybe Jesse Pinkman should go hipster at some point."
• TV Guide reports that Giancarlo Esposito has been cast in a USA pilot called Over/Under, playing "a dry-witted and sophisticated artist," according to TV Guide.
• Canadian community website yorkregion.com reports that Anna Gunn, along with John Stamos, is filming a movie called Secrets of Eden outside of Toronto.
• For recaps and reviews of Season 4, Episode 6, "Cornered," check out A.V. Club, BuzzFocus.com, CNN, Crave Online, Daemon's TV, Entertainment Weekly, HitFix, the Los Angeles Times, the New Jersey Star-Ledger, New York magazine, Paste magazine, Poptimal, Salon, Slate, Time, TV.com, TV Fanatic, UGO.com and the Wall Street Journal.
Read More