Press
Breaking Bad's Aaron Paul Chats With The Associated Press, Appears on Lopez Tonight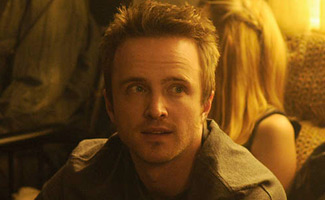 This week, Aaron Paul was interviewed by The Associated Press and made an appearance on Lopez Tonight. Plus, praise for the series from The National Post and The Buffalo News, and recaps and reviews of Season 4, Episode 3, "Open House." Read on for more:
• The Associated Press interviews Breaking Bad star Aaron Paul and notes that his portrayal of Jesse Pinkman makes Jesse "someone (fans) are rooting for."
• Aaron Paul visits Lopez Tonight, where he talks about his days as a movie theater usher, admits sneaking into Hollywood after-parties to steal food and booze, and joins George in inhaling a special kind of gas.
• The National Post includes Breaking Bad in its look at original series on cable television, noting that "AMC has developed the ability to see quality where others miss it."
• The Buffalo News includes Breaking Bad in an article on TV bad guys, calling the series "a smartly made show, with a great cast."
• Illustrator Andy Rash has created "iotacons" (extremely low resolution portraits) for a number of Breaking Bad characters.
• For recaps and reviews of Season 4, Episode 3, "Open House," check out A.V. Club, BuzzFocus.com, Daemon's TV, Gather, HitFix, Louisville Courier-Journal, Salon, The Star-Ledger, Time, TV.com, and The Wall Street Journal.
Read More