Uncategorized
Q&A – Betsy Brandt (Marie Schrader)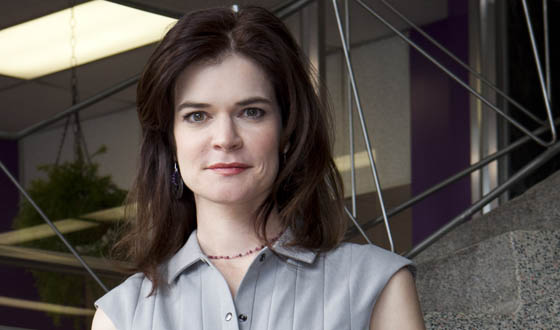 Breaking Bad actress Betsy Brandt describes the joy of stealing spoons, shares her theories on gelato as medicine and explains how a bedpan on your head can diffuse a tense situation.
Q: This season Marie is really cheerleading for Hank with his physical therapy. Have you ever had to give someone encouragement when it wasn't welcome?
A: On smaller scale I do it all the time — I always say to my husband, "Once a cheerleader always a cheerleader." What's the alternative? Throw my hands up and say "There's nothing we can do! Why me?" It's those moments that make you evaluate what's important and what's not important. I have two kids, so I've got to have a mantra to keep going.
Q: Were you happy to see Marie's kleptomania resurface this year?
A: I'm happy to see it return. It is fun to steal. I don't really steal things in my life except small spoons from restaurants — not people's homes — because that makes it OK. But I was glad to see Marie stealing because not only was it really fun but it provided a lot of insight into what she's going through. She's under a lot of stress, she's really unhappy and this is an outlet for her.
Q: Were you surprised that Marie actually steals a spoon this season?
A: I can't remember if I was getting ready to shoot or if I already shot the scene, but I went out for brunch with one of the writers and told him that I steal small spoons. I took a spoon from the restaurant — I stole it when he wasn't looking, wrapped it up as gift, and gave it to him. [Laughs]
Q: What's the closest you've ever come to being arrested?
A: I haven't come very close. But I did get a fake ID from the cops once. In high school, a teacher's friend in the police department asked me to go into a bar and flash a fake ID saying I was 21 even though I wasn't. They were assuming the bar wasn't carding people. Anyway, she forgot to ask for it back. I used it all freshman year in college.
Q: The open house sequences are hysterical. What's it like to become all those different people?
A: When I read the script, I made the decision that Marie would love making up those names and saying who she was and imagining for a brief moment that this was her life. It's a way for her to become someone else. It's a dread-free, alcohol-free escape. I see why it's addictive because she can go and be someone else and she also knows if the shit comes down, Hank's gonna save her.
Q: If you had to pretend to be someone else, what back story would you make up for yourself?
A: Someone without kids [Laughs]. I'd probably live in Italy comfortably in the north. And drink wine and coffee. They always serve a piece of dark chocolate with espresso. I believe in that. I believe in gelato. I believe gelato is meant to be treated as medicine and taken daily as a prescription.
Q: Hank is pretty obsessed with "minerals" this season, and Marie seems to not really get it. What do you collect?
A: Besides the spoons I steal? I think given the ways he behaves and treats her, why she doesn't throw one of those minerals or rocks at him is beyond me. Right now I'm really into cross napkins. I put them at the table but am afraid to use them. I shop for napkins right by where we live in New Mexico and they make whatever I made for dinner even nicer.
Q: Last season your character had to pleasure Hank with her hand. What's the most uncomfortable thing you had to do this season?
A:The bedpan. I love that she tries so hard and makes it seem like it's not a big deal. But it was hard. So for me, the heavier the scene the more I need to joke. It's also how I roll in life to diffuse the tension. You have to believe that I did some joking around during the bedpan scene! I modeled it as a hat on my head.
Click here to read an interview with Dean Norris, who plays Hank Schrader
Read More