Press
AMC Renews Breaking Bad for 16 More Episodes to Conclude Series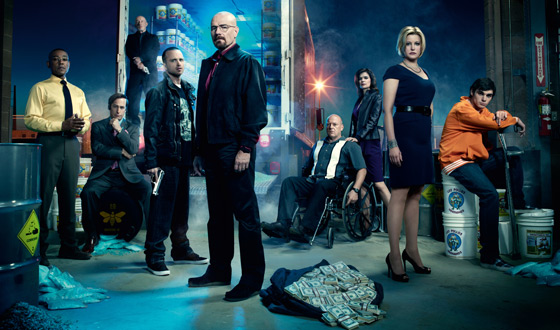 AMC announced today that Breaking Bad, the Emmy Award-winning and critically lauded drama series from acclaimed writer-producer-director Vince Gilligan has been renewed for a 16 episode order that will conclude the series. Production on all episodes of the final order will commence in early 2012. The roll-out of the episodes and premiere date schedule has yet to be determined by the network. The announcement was made by Charlie Collier, president of AMC.
Breaking Bad's fourth season premiered on Sun., Jul. 18 to the highest ratings ever for the series. Household ratings are 30% stronger than Season 3 and Season 4 is delivering 28% more total viewers and over 45% more adults 18-34 than last season. The series was recognized as "…the most complete and extraordinary show on TV" by Entertainment Weekly while Daily Variety called it "the most addictive show on the air."
"From the day we heard Vince Gilligan's completely original vision for Breaking Bad, it has been a complete joy to be involved with this show. Watching this story evolve into the complex, compelling, and intense roller coaster ride that it has become has been an incredible creative experience for everyone at AMC. Beyond that, working with Vince, his brilliant cast and crew, and our wonderful partners at Sony has been remarkable in every way. While it is sad to even contemplate the end of this series, we are so happy to have had the chance to go on this ride, and truly look forward to presenting the rest of this amazing story," said Collier.
"It's a funny irony — I'd hate to know the date of my own last day on earth, but I'm delighted to know what Walter White's will be (episodically speaking). This is a great gift to me and to my wonderful writers. It's knowledge which will allow us to properly build our story to a satisfying conclusion. Now, if we don't manage to pull that off, we've got no one to blame but ourselves," said Vince Gilligan. "Breaking Bad has been a dream job these past four years. Working with the best cast and crew in television has no doubt spoiled me for future projects. I'm lucky to get to work with them on sixteen more episodes, and I will always be grateful to both AMC and Sony Television, who from the beginning, believed in our show and supported me creatively and professionally. We have been able to take risks with Breaking Bad which would not have been possible on other networks."
"We've watched Breaking Bad grow over the years with viewers, as championed by the unwavering support of critics and the well deserved accolades Vince and his talented actors have received. We're looking forward to seeing Vince's masterful storytelling come fully to fruition over the course of the series' final episodes," said Zack Van Amburg, President, programming for Sony Pictures Television.
Breaking Bad stars Emmy Award-winner Bryan Cranston (Malcolm in the Middle) as Walter White; Emmy Award-winner Aaron Paul (Big Love) as Jesse Pinkman; Anna Gunn (Deadwood) as Skyler White; Dean Norris (Little Miss Sunshine) as Hank Schrader; Betsy Brandt (CSI) as Marie Schrader; RJ Mitte (Hannah Montana, Weeds) as Walter, Jr; Bob Odenkirk (Mr. Show with Bob and David) as Saul Goodman; Giancarlo Esposito (Gospel Hill) as Gus Fring; and Jonathan Banks (Wiseguy) as Mike. Breaking Bad is filmed on location in Albuquerque, NM.
The series first premiered on AMC in Jan. 2008 and follows protagonist Walter White, a milquetoast high school chemistry teacher who lives in New Mexico with his wife, teenage son who has cerebral palsy and a new baby girl. White is diagnosed with Stage III cancer and given a prognosis of two years left to live. With a new sense of fearlessness based on his medical prognosis, and a desire to gain financial security for his family, White chooses to enter a dangerous world of drugs and crime and ascends to power in this world. The series explores how a fatal diagnosis such as White's releases a typical man from the daily concerns and constraints of normal society and follows his transformation from mild-mannered family man to a kingpin of the drug trade.
Breaking Bad has received sixteen Emmy® Award nominations in the following categories: Outstanding Drama Series (2009, 2010); Outstanding Lead Actor in a Drama Series for Bryan Cranston (2008, 2009, 2010); Outstanding Supporting Actor for Aaron Paul (2009, 2010); Outstanding Directing for a Drama Series for Vince Gilligan (2008) and Michelle MacLaren (2010); Outstanding Cinematography for a one-hour series for John Toll (2008) and Michael Slovis (2009, 2010); Outstanding Sound Editing for a Series; Outstanding Single Picture Camera Editing for a Drama Series for Lynne Willingham (2008, 2009) and Skip McDonald (2010); with six wins overall for Cranston (2008, 2009, 2010); Paul (2010); and Willingham (2008, 2009).
In 2008, the American Film Institute (AFI) included Breaking Bad on its list of the "Top 10 Programs" of the year. That same year, Vince Gilligan won the Writer's Guild Award for his work on the pilot. In 2010, AFI recognized the show on its list again and that year the writers were also nominated for their exceptional work by the Writer's Guild of America. In 2009 and 2010, the Producer's Guild of America recognized the series with a Norman Felton nomination. In addition to his Emmy accolades, Cranston was nominated for a Golden Globe and Screen Actors Guild Award in 2011 and won a Television Critics Association (TCA) award in 2008 for his role on the series.
Breaking Bad is produced by High Bridge Productions, Inc. and Gran Via Productions in association with Sony Pictures Television for AMC. Executive Producers are Vince Gilligan, Mark Johnson, and Michelle MacLaren; Co-Executive Producers Melissa Bernstein and Sam Catlin; Supervising Producers Peter Gould, George Mastras, and Tom Schnauz; Producers Moira Walley-Beckett, Bryan Cranston, and Diane Mercer; Produced By Stewart A. Lyons; Associate Producer Andrew Ortner, Staff Writer Gennifer Hutchison; and Director of Photography Michael Slovis.
Read More