Press
AMC to Debut First-Look of The Walking Dead During Premiere of Breaking Bad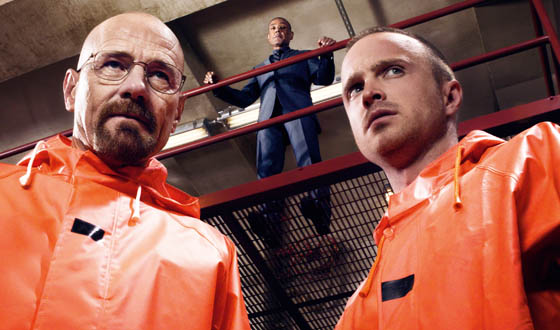 On Sun., Jul. 17th, during the premiere of Season 4 of Breaking Bad, AMC is sneaking a first-look video from the upcoming season of The Walking Dead. Season 1 of The Walking Dead premiered in Oct. 2010 and became the most watched drama series in basic cable history among Adults 18-49.* The Walking Dead tells the story of the months and years that follow after a zombie apocalypse. Season 4 of Breaking Bad premieres Sun., Jul. 17 at 10PM | 9C.
*Source: NMR (1993-12/05/2010), Adults 18-49, program indicator general drama, ad supported cable networks.
From acclaimed writer/producer/director Vince Gilligan and produced by Sony Pictures Television, Breaking Bad follows the story of a desperate man who turns to a life of crime to secure his family's financial security. Season four consists of 13, one-hour episodes. Filmed on location in Albuquerque, NM, Breaking Bad stars 2008, 2009 and 2010's Emmy® Award winner for Outstanding Lead Actor Bryan Cranston as Walter White; 2010 Emmy® winner for Outstanding Supporting Actor in a Drama Series Aaron Paul as Jesse Pinkman; Anna Gunn as Skyler White; Dean Norris as Hank Schrader; Betsy Brandt as Marie Schrader; RJ Mitte as Walter, Jr; Bob Odenkirk as Saul Goodman; Giancarlo Esposito as Gus Fring; and Jonathan Banks as Mike.
Breaking Bad Season 4 is also complemented by a variety of exclusive material on www.amc.com. Among the special digital content is "Inside Breaking Bad" videos for each episode, behind-the-scenes clips throughout the season, and videos of the season's most "Talked About Scenes." The site also features a new iteration of its interactive graphic novel, starring Aaron Paul's character Jesse Pinkman, and an interactive case file — with photos, text and video that allows visitors to sift through the same crime scene evidence that DEA agent Hank Schrader (Dean Norris) is privy to. The game is entitled "The Cost of Doing Business" and is written by Breaking Bad writer's assistant Gordon L. Smith with art from Steve Ellis (The Interrogation, Iron Man, High Moon) and game design by Playmatics, Inc.
Season 4 is already garnering praise. New York Magazine states, "There's no other show like it." Newsweek calls it, "TV's finest hour." People gave it "4 Stars" and tvline.com said, "The 'Masterful, Intense, Crazy-Good' Season 4 Is 'Worth the Wait." Star calls it, "one of the best shows on TV."
Breaking Bad has garnered a total of six Emmy® Award wins and 16 nominations. In addition to wins for Cranston and Paul, the series won Outstanding Single-Camera Picture Editing for a Drama Series for Lynne Willingham (2008, 2009). Additional Emmy® nominations include: Outstanding Drama Series (2009, 2010); Outstanding Directing for a Drama Series for Vince Gilligan (2008) and Michelle MacLaren (2010); Outstanding Cinematography for a One-Hour Series for Michael Slovis (2009, 2010) and John Toll (2008); Outstanding Single-Camera Picture Editing for a Drama Series for Skip McDonald (2010); and Outstanding Sound Editing for a Series (2010).
Breaking Bad has garnered a Peabody Award (2008), a Writer's Guild Award for Vince Gilligan's work on the pilot episode, two American Cinema Editors (ACE) Awards, and been named to the American Film Institute's (AFI) list of the "Top 10 Programs of the Year" (2008, 2010).
Breaking Bad is produced by High Bridge and Gran Via Productions in association with Sony Pictures Television for AMC.
Read More