What You're Saying About Victor's Murder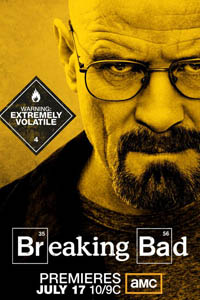 Throughout Breaking Bad Season 4, AMC will award Talk Forum commenters quoted in our weekly "What You're Saying" post with prizes (limit one per person). The week, commenters will receive Season 4 posters. Next week: Season 3 DVD sets.
The shocking murder of Victor at the hands of Gus in the Season 4 premiere kept the talk forum buzzing this week, with commenters trying to reason out why Gus might have done it and what it could mean for other characters.
• "The murder performed by Gus was not out of character but was shocking — I did not see that coming." — Alex Chaplin
• "I love how each of them reacted: Walt clutching his chest in horror and Jesse just staring the whole thing down, unfazed. The shot back at Gus… showed a little surprise and respect that Jesse wasn't scared." — David_99
• "Victor was seen at the crime scene by several people… [He] was a liability to Gus and had to be eliminated." — Keith Sumner
• "Gus was brutal. Mike has no reason to believe that he would be treated any better." — ElizabethMC
Log onto the Talk forum to join in any of these conversations or start a Breaking Bad topic of your own.
Read More