What You're Saying About Breaking Bad's Late-Night Encores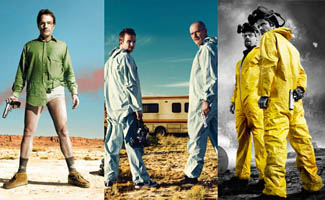 In anticipation of Breaking Bad's Season 4 premiere, AMC is reairing all 33 episodes from Seasons 1 through 3 late-nights in July. Commenters this week weighed in with their excitement over getting to rewatch their favorite moments.
• "I'm not really going to quote that J.J. Cale song again, am I? Yes! It's traditional! It's appropriate! It's celebratory!… 'After Midnight, we're gonna let it all hang out.'" — rockmama
• "LOVE that you are airing them ALL again!" — DoUcIt2
• "Can't get enough of it, can't wait to see what's next. Walt and Jesse are great together." — Brandy
Log onto the Talk forum to join in any of these conversations or start a Breaking Bad topic of your own.
Read More