Watch & Chat About Season 4 Episode 3 This Sunday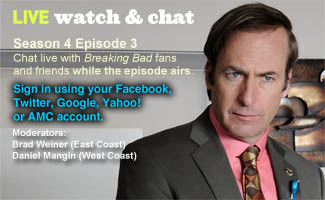 Throughout Season 4, AMC viewers can participate in the Breaking Bad Watch & Chat, allowing you and your fellow fans to discuss the latest episode in real time as it airs on AMC.
Want to join the conversation? Log onto the Talk forum Sunday night then start chatting in the comments section. Sunday's East Coast Watch & Chat begins at 10PM ET | 9C; the West Coast Watch & Chat starts at 10PM PT.
Click here to join Sunday's Watch & Chat.
Read More