Press
TV Guide Picks Top Moment From Breaking Bad; Cranston Visits Ferguson's Late Late Show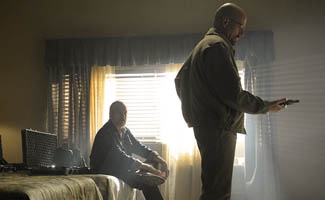 This week TV Guide chooses a scene from Breaking Bad's Season 4 premiere as its top TV moment while Bryan Cranston visits The Late Late Show with Craig Ferguson and stops by Comic-Con.
• TV Guide labels Victor's murder scene in Breaking Bad's premiere TV's top moment last week, honoring it as the "Best Silent Treatment."
• The Los Angeles Times and the Huffington Post both discuss a visit Bryan Cranston paid to The Late Late Show with Craig Ferguson.
• io9 says Bryan Cranston was "clearly the… fan favorite" at Comic-Con's Total Recall panel. HitFix adds, "Cranston was the MVP of the panel, landing one great joke after another with a very dry sense of humor."
• Bryan Cranston shares some insights with Grantland about the season so far, including shooting Victor's "horrifying" murder scene.
• Aaron Paul talks to the Associated Press about what might happen when Jesse discovers the truth about Jane's death: "…heads are going to roll." Paul also talks to Complex Magazine about being on the Breaking Bad set: "We just goof around and laugh all day really."
• Aaron Paul chats with Zap2it about the film he did during his hiatus between Seasons 3 and 4.
• TOROmagazine.com conducts an interview with Dean Norris, who hints that Hank and Walt will spend a lot of time together in the car this season.
• RJ Mitte speaks with his hometown paper, the Times of Acadiana (La.), and reveals, "I don't watch the show. I don't want to see myself on television. I don't like it."
• At Comic-Con, Matt L. Jones talks to MovieWeb about Badger's fate: "Hopefully they're going to give me some wonderful exit," he says.
• Krysten Ritter (Jane) talks to Broadway.com about being recognized: "I was in Times Square and a garbageman started yelling from a truck, 'We love you on Breaking Bad!'"
• The Boston Globe says of Breaking Bad, "Every character on this show has evolved over the seasons, not least of all Skyler."
• The U.K.'s Telegraph calls Breaking Bad "the best American TV drama currently running."
• A New York magazine writer watches the first three seasons of Breaking Bad in one week in preparation for Season 4 and calls it "one of the best experiences of my life."
• The New York Times reports that Breaking Bad's second episode of Season 4 pulled in a total of 2 million viewers, retaining much of its season premiere audience and outpacing last season's viewership by 30 percent.
• Collider.com reviews Batman: Year One and remarks that "the standout of the film is Bryan Cranston as Jim Gordon." Cranston talks to Comic Book Resources about why he decided to take the role.
• For recaps and reviews of Season 4, Episode 2, "Thirty-Eight Snub," check out A.V. Club, BuzzFocus.com, Daemon's TV, HitFix, the New Jersey Star-Ledger, Paste magazine, Salon, Slate, The Hollywood Reporter, Time, TV.com, TV Geek Army and the Wall Street Journal.
Read More