Press
Season 4 Premiere Breaks Ratings Record; Time Calls Breaking Bad TV's Best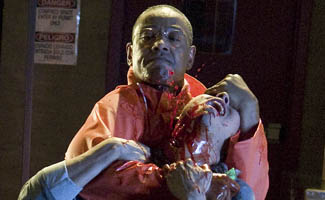 The premiere episode of Season 4 garnered high praise and its highest overall ratings to date. Meanwhile, Time magazine crowns AMC's drama as "TV's reigning best."
• Deadline Hollywood reports that Breaking Bad's Season 4 premiere posted the show's highest ratings yet, with more than half of the 2.6 million viewers in the 18-49 age demographic. Adweek adds that Breaking Bad's growth was as much as 142 percent among men ages 18-34 against the Season 3 premiere, and Entertainment Weekly notes that the series has "managed the rather improbable feat of growing in the ratings every season on AMC."
• A Time feature article calls Breaking Bad "TV's reigning best drama and, despite its premise, its most intensely moral one." The Boston Globe says Breaking Bad is "riveting." The Chicago Tribune states simply, "All I can say is: I want more."
• The San Antonio Express-News is a fan of Breaking Bad's "dark humor and absolutely gorgeous direction," while Canada's Postmedia News says Breaking Bad is best for viewers who want their TV "intellectually challenging, morally opaque at times, and never, ever boring."
• Zap2it reviews Breaking Bad's premiere and calls Victor's murder, "one of the most squirmily intense scenes on TV in years." Bryan Cranston explains to the New York Post why Victor had to die. TV Guide asks about Giancarlo Esposito, "Has any actor ever been more powerful and terrifying without saying a word than Breaking Bad's [Gus]?" For his part, the actor who played Victor, Jeremiah Bitsui, sprained his ankle in the Season 4 premiere, according to E! Online, which states, "We'll never look at a box cutter the same way again."
• TV Guide cheers Dean Norris for "being so damn good on Breaking Bad."
• The Week discusses why Breaking Bad is TV's best drama: The "award-winning acting."
• The Hollywood Reporter has a round-up of what celebrities were tweeting about Breaking Bad's premiere.
• Check out a trailer and sneak peek of Breaking Bad Episode 2, "Thirty-Eight Snub," at TV Fanatic, which says, "Breaking Bad returned last night and didn't waste any time proving why it's the best show on television."
• Assignment X interviews Vince Gilligan, who talks about how the show should end: "I have hopes and dreams for the characters. I have respect and affection for all of them — even Walt, as bad as he is." Gilligan shares with New York magazine, "This is the most creatively satisfying job I've ever had." Gilligan also discusses his Southern roots with the Virginian-Pilot.
• Looking ahead, the Los Angeles Times wonders what Vince Gilligan will do after Breaking Bad is over.
• Bryan Cranston visits with Jay Leno on The Tonight Show and with Conan O'Brien on Conan, while Aaron Paul shows up on Jimmy Kimmel Live.
• Bryan Cranston talks to the Wall Street Journal about his reaction to the Breaking Bad's pilot script: "I knew that for anyone who was lucky enough to get this role, it's a game changer." Cranston also talks to the New York Post.
• Bryan Cranston tells The Hollywood Reporter that he can see the show going for more than five seasons and adds that he'd love for Mad Men's Jon Hamm to win the best actor Emmy this year. (No Link)
• Walt's transformation is the topic of Bryan Cranston's interview with Zap2it: "What I've realized in doing this is even the meekest person among us is dangerous given the right set of circumstances."
• Aaron Paul tells Zap2It that Season 4 is "definitely the most intense season thus far, in my opinion," while the Associated Press chats up Paul about why the fans have so much sympathy for Jesse.
• RJ Mitte tells TV Fanatic about Walter, Jr. gaining a measure of understanding about his father: "He's seeing somewhat through the smoke and mirrors."
• Betsy Brandt discusses Marie and Hank with Zap2it: "She can be a real pain in the bottom to deal with, but he loves her." Brandt also talks to Daemon's TV about clowning around on-set: "If I want to pull a practical joke, I try to get [Bryan] Cranston on board because I know he'll make it happen." The Detroit Free Press interviews Brandt, who advises viewers to "put your seat belts on" for the Season 4 finale.
• An Associated Press profile of Giancarlo Esposito calls Gus "an instantly fascinating character — a man of professional mien, soft-spoken, even-tempered, precise." The Huffington Post muses about Breaking Bad, "The energy between [Bryan] Cranston and [Giancarlo] Esposito is so hot, and unexpected, it is hard to wonder how the scenery doesn't just, basically, explode."
• Giancarlo Esposito reminisces with the Minneapolis Star Tribune about his career, noting that Edward James Olmos and George C. Scott inspired the way he plays Gus. In other news, TVLine reports that Giancarlo Esposito has been cast in a recurring role on ABC's new fall drama Once Upon a Time.
• Saul Goodman fans should check out Nerve.com's video tribute to the funniest things said by the "world's sleaziest criminal lawyer."
• The Dallas Observer chats with Tina Parker about her role as Saul's assistant: "If they said, 'Would you come open the door for Bryan Cranston so he can have an amazing scene, I'd be, like, 'Sure, what time do you need me?'"
• Grantland takes a look at TV's favorite angry white males, including Walter White.
• Television Without Pity points to Breaking Bad in its examination of TV's morally ambiguous characters, concluding, "Walt is a baddie. There's just no coming back for him, especially after Season Three."
• Salon has a slideshow of Breaking Bad's ten best moments.
• TheWrap looks at the connections between Breaking Bad and The X-Files.
• Reuters thinks Breaking Bad has "made it cool to like chemistry again." The Huffington Post examines the metaphor of chemistry on Breaking Bad.
• The Washington Post thinks "Breaking Bad has done for Albuquerque what David Simon did for Baltimore and is now doing for New Orleans."
• The U.K.'s Guardian laments about Breaking Bad, "Season four… starts tomorrow in the States. And we still haven't had season three? Bad. Bad. Bad."
• Fortune reports that Jeffrey Katzenberg is a fan of Breaking Bad. The co-founder and CEO of DreamWorks Animation SAG thinks "the best show on TV today is Breaking Bad. It's just a remarkable show."
• Inside Pulse reviews two more Breaking Bad Season 2 episodes: "Over" and "Mandala."
• For more recaps and reviews of Season 4, Episode 1, "Box Cutter," check out AOL TV, Assignment X, A.V. Club, Crave Online, Entertainment Weekly, Examiner.com, HitFix, the New Jersey Star-Ledger, Salon, Slate, The Hollywood Reporter, Time and the Wall Street Journal.
Read More