Press
Breaking Bad Is TV Guide's No. 1 Show; L.A. Times Hails Gilligan as Elite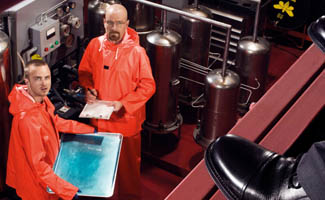 This weekend's upcoming Season 4 premiere has kicked off a tsunami of praise from publications, including TV Guide's selection of Breaking Bad as its top viewing experience this week as well as kudos from the Los Angeles Times, the Boston Globe and more.
• The Los Angeles Times profiles Vince Gilligan, who's been propelled by Breaking Bad "into the top ranks of TV's elite producers."
• The season 4 premiere is the top show worth watching this week, according to TV Guide, which calls the series "as addictive as Walt's finest product." (No Link)
• E! Online recommends having smelling salts on hand for Breaking Bad's premiere, thanks to a "shocking" scene with Gus.
• HitFix praises Breaking Bad as a "pantheon-level" show, adding, "At this stage of the series, Vince Gilligan and company have total command of their instrument."
• Variety's attitude toward Breaking Bad: "I've finally succumbed to a TV-junkie mind-set: Don't ask too many questions, and enjoy the high for however long it lasts."
• The Boston Globe declares Breaking Bad to be "one of TV's best shows — if you like knockout acting, tense action, probing scripts, and awesome cinematography, that is."
• "Vince Gilligan is the genius and the difference in Breaking Bad," The Hollywood Reporter states. "It would take an enormous collapse in quality," THR also predicts, for Breaking Bad to tumble down the publication's weekly power rankings.
• TV.com prefaces its look at the Breaking Bad Season 4 trailer thusly: "No thesaurus in the world could provide a word to describe how excited I am for the fourth season of Breaking Bad."
• The Toronto Star is so excited for Breaking Bad they're "chomping at the bit." The Austin American-Statesman advises about Breaking Bad, "you can't miss with this crazy good meth-fueled show. " To the Plain Dealer, Breaking Bad is a "mesmerizing drama."
• The Houston Press strongly recommends watching Season 4 of Breaking Bad: "You will thank me. No more half measures. It's time to do this." Bloomberg characterizes Breaking Bad as "a rich, compelling drama about the indecent choices of a seemingly decent man." NPR says of AMC's drama, "this show simply has to be seen."
• The Charleston (W. Va.) Gazette is "ridiculously excited" for Breaking Bad's return. The Baltimore Sun declares that "Bryan Cranston and Aaron Paul are our TV gods," but clarifies "not in a creepy way." The Pittsburgh Post-Gazette thinks Breaking Bad is the "rare prime-time television series that has yet to make a misstep three full seasons into its run."
• In its feature on Breaking Bad, the St. Petersburg Times calls it "the best program on television." The Contra Costa (Calif.) Times thinks Breaking Bad "remains as addictive as ever."
• The New York Daily News gives Breaking Bad's season premiere four out of five stars, lauding the show that finds "nuance and drama within this compromised world."
• The season premiere of Breaking Bad gets an "A" from the Detroit News.
• Vince Gilligan talks to Zap2it about Walt and Jesse: "Jesse's relationship with Mr. White, his mentor, will be tested in a way this season that it never has been tested before."
• Bryan Cranston visits The View and says of Walt, "There's no redemption for him." On a lighter note, Cranston also sings to Rolling Stone's Peter Travers.
• Bryan Cranston talks to the A.V. Club about the Season 4 premiere: ""Wow, what a way to put paddles on the heart of the audience and jump-start their season!"
• Anna Gunn chats with Zap2It, comparing Skyler and Walt: "I think there's certainly a lot of justification that goes on in her head, just as Walt has his justifications for the choices he's made."
• Betsy Brandt talks to Starpulse about asking "Vince Gilligan for Marie to get a gun and have really good aim. I would love to see her get in on the action."
• New York magazine compares Jesse Pinkman with The Killing's Stephen Holder in its "Homeboy Off."
• USA Today discusses how Vince Gilligan is able to push "how much violence basic cable can get away with."
• The Huffington Post uses Breaking Bad — "the best dramatic show on TV" — as a framework to discuss moral ambiguity on TV. Similarly, Grantland notes that on Breaking Bad "there's an irrefutable difference between what's right and what's wrong, and it's the only one where the characters have real control over how they choose to live."
• Screen Junkies looks ahead at Breaking Bad Season 4 and warns, "we're in for even darker territory than previously treaded, and not just for Walt, but for all of the characters."
• BuzzFocus.com wants five questions answered in Beaking Bad Season 4, including what the fallout will be from Jesse's final moments with Gale in Season 3.
• New York magazine likes AMC's new Breaking Bad graphic novel game.
• Bryan Cranston speculates to UGO.com about which son from Malcolm in the Middle would be most likely to sample Walt's meth.
• The National Post mentions AMC "re-running [Breaking Bad]'s first three seasons in the wee hours of the morning before the Season 4 premiere. Thanks, insomnia!"
• Inside Pulse continues its reviews of Breaking Bad, focusing on four Season 2 episodes: "Peekaboo," "Negro y Azul," "Better Call Saul" and "4 Days Out."
• "It can be done — and without methamphetamine!" says New York magazine, providing a guide to speeding through Breaking Bad's first three seasons before Sunday night.
• Daemon's TV has Michael Gladis (Mad Men's Paul Kinsey) choosing Breaking Bad as the TV show he'd most like to be a guest star on.
• Elijah Wood singles out Breaking Bad while talking to TV Guide: "Some of the best acting is on cable TV right now."
Read More