Press
NY Times Calls Breaking Bad Revolutionary; EW Touts Season Premiere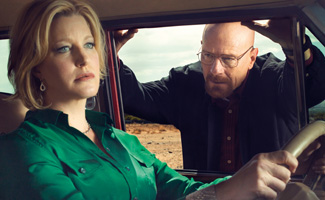 This week Breaking Bad lands a feature article in the New York Times Magazine while Entertainment Weekly considers the Season 4 premiere must-see TV.
• A New York Times Magazine feature praises Breaking Bad as "a revolutionary take on the serial drama. What sets the show apart from its small-screen peers is a subtle metaphysical layer all its own."
• Entertainment Weekly's "Must Watch of the Week" is the Season 4 premiere, which provides "at least one genuinely shocking twist, and more proof that it's among the best shows on television." (No Link)
• Bryan Cranston tells Parade about transforming himself into Walt: "I shave my head for the role. We take the color out of my face and I put on the chinos and look in the mirror and say, 'Hello, old friend.'"
• BlackBook profiles Aaron Paul, "whose embodiment of Jesse has made him one of the most memorable and engaging characters on television today." (No Link)
• People's Season 4 review lauds Breaking Bad as a show that has "evolved into a modern underworld Western — there's nothing else like it." (No Link)
• Us Weekly expects Breaking Bad viewers to be "hooked again by this artful, mesmerizing chiller" at the end of the Season 4 premiere episode.
• The Hollywood Reporter is excited to watch Breaking Bad, the "Big Baddy Daddy of Summer."
• HollywoodChicago.com talks up Breaking Bad on Chicago's WGN-Radio: "I can't remember the last season premiere that people were this excited for."
• Check out photos of the cast and crew at a screening of the Season 4 premiere in Hollywood last week, including shots of Bryan Cranston and Betsy Brandt clowning around. WireImage has more photos, while The Hollywood Reporter prowled the red carpet.
• At the Season 4 premiere screening, Vince Gilligan marvels to Reuters that Cranston is "able to go darker, whatever episode, and it's a constant surprise to me how he's able to pull that off." MovieWeb features more Breaking Bad interviews with Gilligan, Bryan Cranston, Aaron Paul, R.J. Mitte, Jonathan Banks and Dean Norris.
• "It's going to be a doozy," TheWrap writes of Breaking Bad Season 4 after viewing the behind-the-scenes video featuring the show's cast.
• Faced with the prospect of a fall season without pro sports to watch, the Salt Lake Tribune offers Breaking Bad as an alternative: "Catch up on those episodes… you TiVo'd."
• BleedingCool.com notes that actor Tank Jones "had the good fortune" to be cast in Breaking Bad.
• Bryan Cranston discusses his various movie roles with Zap2it, including the anxiety he felt playing Julia Roberts' husband in Larry Crowne. ReelzChannel TV writes about Cranston's film career, pronouncing him "Hollywood's latest go-to character actor."
• Here's Bryan Cranston's take on Tom Hanks, courtesy of The (Palm Springs, Calif.) Desert Sun: "He is exactly how you think he is. That persona he sends out, he's very genuine."
• Film School Rejects points to Bryan Cranston's casting as the reason Gangster Squad is "the greatest movie ever made.
Read More