Uncategorized
Bryan Cranston (Walter White) Answers Fan Questions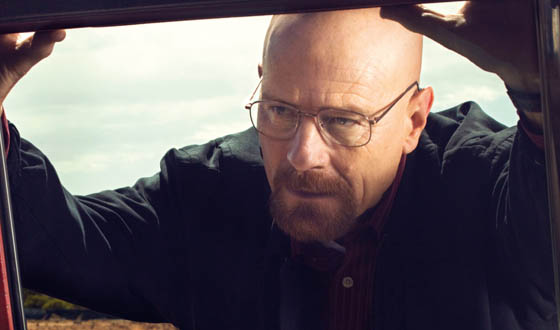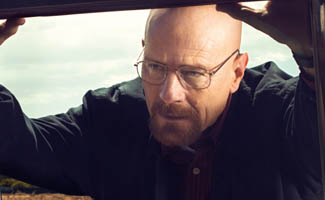 Three-time Emmy-winner Bryan Cranston explains how he channels his inner Walter White then gives tips on how to sleep nightmare-free after watching an Breaking Bad. For hardcore fans, he even describes the mechanics of tossing an extra-large pizza on the roof.
While I was watching the show, every once in a while I would notice Walt open his mouth a little and lick his lips. Is that a characteristic of Bryan Cranston or a nervous twitch that only Walt has? – col93
A: I don't really know. Perhaps my lips were just dry. What you do as an actor is you get into the moment that your character is in, and feel that anxiety or fear or joy or whatever the emotion is, and then that will take you there. Your behavior should be honest to that emotion. If there are scenes where you're supposed to be out in the blistering hot dessert for hours on end, you might include something like that where you're trying to find moisture in the weariness that the heat and the oppression creates. It also might have been something that happened out of trying to pause a moment to think to create some kind of thought as to how to stay alive.
I used to live in Albuquerque and remember the oppressive heat. Is it challenging at times to shoot some of the more physically demanding scenes outside? – Artemis
A: Of course. Any time that you're out of the comfortable environment of a stage where you have sound control and temperature control, that makes the day harder. But we actually finished this year mid-June, so we escaped before the tremendously oppressive heat came. Actually, we had one day that the whole production was shut down because everything was frozen over, including the pipes at my house in Albuquerque. For three days straight, the meter froze so I had no water. Fortunately, I live in the same condominium complex that [Creator] Vince Gilligan lives in, and his was OK. So I would go over to his house and take a shower, use his toilet, I'd have a party.
After an entire season of playing Walter White, how long does it take you to come down? – Jeffthechef
A: I come down every night. He's a burdened man, and I don't want to take him home with me. I put moist towels on my head and I wash off all the grime and makeup and everything that comes off on these hot towels. I try to put some light back into my face. I take off all those clothes, glasses, boots. I can just shed him. And the next day, I go back in and step into those now-comfortable shoes and zip up the character.
Do you have trouble sleeping at night like I do, because of the darkness of your show? – Denyse Fritzsching
A: Thanks, Denyse. That's a testament. Here's a tip: If it's too dark and it prevents you from sleeping, watch the show during the daytime. That's what my wife does. She cannot watch it at night. That gives her plenty of time to come down throughout the day before she goes to sleep. I don't have any problem going to sleep, I think primarily because we take twelve, thirteen hours a day to shoot and we shoot out of sequence, so the story is not connected yet. The process is very tedious and challenging, so it doesn't have the same emotional effect.
What personal life experiences do you draw on to bring out the darker, violent side that Walt now has to display? – Superman_2000
A: It wasn't something that I drew on specifically from my background, but times in your life where you did get angry — angrier than you could imagine — times in your life where you were frightened, or you had to take a deep breath before doing something scary but you needed to do it. You draw on all of those experiences and what it feels like, and you bring it into the work. What I've come to accept from playing this role is that there is a dormant bad-guy in everyone, given the right set of circumstances. I think that's what's resonating: You see this mild-mannered man as he started out, and the circumstances have been justifiable. You may not agree with the actions that Walter White has taken, but I think most people can say, "Oh boy, I know why he's doing this, but God he shouldn't!"
Do you ever notice the boldness of Walt bleeding into your life? – Rachel Klien
A: There was one time in my life that's very clear when I saw red. I really knew that I could be dangerous. Then there are times, like when I go running: I feel fine, I feel good, and I'll start running and all of a sudden because your guard is down and you're breathing heavy, you're sweating and all of a sudden all this spewing anger comes out. I won't even have any guess that I was angry and I just vent. Wow. The depths of hidden anger or resentment or fear or anxiety is incalculable.
When one sad day (hopefully 47 seasons down the road) the show has to end, are you worried that you won't be able to find a role that tops Walter White? – CharlieSluggets
A: I wasn't worried I wouldn't find a role that would top Hal on Malcolm in the Middle. If this was the pinnacle in my career — and I think it is — I think Walter White is the role of my lifetime. I'm enjoying the ride. I'm not looking beyond to think, "I gotta improve on this, I gotta do better." I have a great ride here and I know it will come to an end. And when it comes to an end, I wanna be able to look back on how many ever years Breaking Bad was on and say, "I'm so proud of that. I'm so lucky that I was a part of that world."
Your pizza toss in Season 3 was one of the greatest things I've ever seen on TV. How did you do that? – Brooklyn625
A: That was the world's largest pizza. I had never seen a pizza that big before. It was a real pizza, and they really serve it. And they were prepared with special effects, a lightweight rubber pizza, there was a prop guy ready to pull a fake pizza up to the roof. We had all kinds of things ready to go. But I said, let me just try it. So, I'm coming out and I'm pissed and I fling the pizza and I didn't even look at it. I fling the pizza and I get in the car and I drive away. And I did all that and I hear clapping as I'm driving back. I look up and there's the pizza. They said if they had marked where would be the optimal place for the pizza to land, it would be where it landed. One of those freak accidents that's like "Here it is, we did it! There it is!" And sure enough, they said "let's do another take," and it never happened again.
Click here to read a Season 3 interview with Breaking Bad Creator Vince Gilligan
Read More