What You're Saying About the Upcoming Season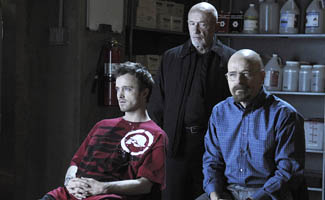 Anticipation for the new season is growing as the July 17 premiere date approaches. Some fans are wondering what will happen to their favorite character; others are happy to simply voice their excitement. Among all the commenters one thing is clear: Season 4 can't come soon enough.
• "Will Hank walk again? I see him in some Season 4 pics where he's in a wheelchair." — Nimrod1313
• "The anticipation is killing me. Season 4 is going to be epic!" — Nohmann
• "Season 2 Episode 1: 'How do you expect we kill a man when you can't even load the gun?' Season 4: 'Get me in a room with him and I'll do the rest.' Evolution of a Criminal." — Quebrando Mal
• "I'm So pumppppeeeddddd. Season 4 is gonna be awesome!" — gangstanovak
Log onto the Talk forum to join in any of these conversations or start a Breaking Bad topic of your own.
Read More