What You're Saying About Your Favorite Season 3 Episodes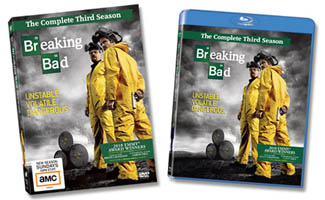 This week marked the release of Breaking Bad: The Complete Third Season on Blu-Ray and DVD. On the Talk Forum fans marked the occasion by sounding off about their favorite episodes, proving in the process that while individual tastes may vary, all can agree that Season 3 was unforgettable. Here's a sampling of what commenters had to say about their favorites.
• "'Fly' intrigued me by its indulging highlight of death and it's moral ambiguity on Walter White's journey." — Quebrando Mal
• "'Caballo Sin Nombre.'.. My favorite moment is when Saul Goodman comes to Walt's apartment and gives him a pep-talk to get him to start making meth again." — judgeboothby
• "'Half Measures' was def my favorite! It just tied up all the loose ends and really brought the plot together." — efenix
• "'Sunset' was my favorite… I had never been so far on the edge of my seat as I was when Hank had Walt and Jesse trapped in the RV." — BrBa338
• "'One Minute' might be the best piece of tv ever in history. So that is my vote." — Dinosaur_Sheriff
Log onto the Talk forum to join in any of these conversations or start a Breaking Bad topic of your own.
Read More