Press
Newsweek Lauds Breaking Bad; Vince Gilligan Talks Season 4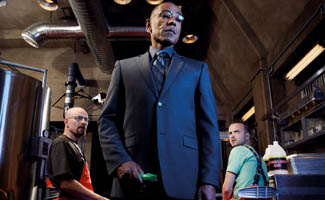 This week Newsweek gives Breaking Bad the feature treatment, praising it as the best show on TV, while Vince Gilligan discusses the new season (and beyond) with publications like Collider.com, ScreenJunkies and Zap2it.
• Newsweek runs a feature on Breaking Bad headlined "The Most Dangerous Show on Television," calling the AMC drama "the best program on TV, period."
• Collider.com chats with Vince Gilligan about when he thinks the show should end: "I would say season five should probably be our last season. But you know, check with me a year from now, we'll see if I change my tune." TV.com reflects on Gilligan's quote, predicting "Television might get 1000-percent worse after next year."
• Vince Gilligan tells ScreenJunkies what to look forward to in Season 4: "You can expect a lot of really intricate plotting and a lot of darkness, but a lot of darkness leavened with a lot of unexpected humor." Gilligan also talks to Zap2it, explaining, "It's super important to me that people stay interested in Walt. It's not quite as important to me that people continue to root for him."
• TV Guide teases that Giancarlo Esposito's Gus will "own the premiere's most shocking, intense scene" while saying fewer than five words.
• Bryan Cranston talks Breaking Bad with CNN, explaining that Walt "fully embraces who he really is now."
• Variety cites Breaking Bad as an example of a new trend towards more languid storytelling, praising the drama for its "ability to create and sustain a sense of jeopardy… without telegraphing what's going to happen next." (No Link)
• TVLine and Entertainment Weekly feature a behind-the-scenes video of Breaking Bad Season 4. Of the video, TV.com says, "there's something about Breaking Bad and its cast that makes me believe every word they're saying."
• Breaking Bad won the Saturn Award for best syndicated / cable television series, beating out The Closer, Dexter, Eureka, Leverage, Spartacus: Blood and Sand and True Blood.
• The (New Jersey) Star-Ledger reviews the Breaking Bad Season 3 DVD set, calling Bryan Cranston "magnetic."
• USA Today has a photo of Bryan Cranston and his wife, Robin Dearden, at the Larry Crowne premiere. R.J. Mitte was there too.
• Deadline reports that Steven Soderbergh's Contagion, which features Bryan Cranston, will hit theaters earlier than expected on Sep. 9.
• The Hollywood Reporter states that Bryan Cranston is in talks to join Argo, a film that Ben Affleck will direct and star in.
• The Hollywood Reporter also reveals that Giancarlo Esposito is set to play a crime boss in I, Alex Cross, based on the book by James Patterson. Esposito talks to Entertainment Weekly about the movie.
• Collider.com reports that Bryan Cranston is in talks to star in the period crime drama Gangster Squad, noting, "Cranston is doing a splendid job parlaying his multiple Breaking Bad Emmy wins into fancy movie roles." indieWIRE's reaction? "Bryan Cranston Has The Best Agent In Hollywood."
Read More