Press
Aaron Paul Chats With EW; Director Mike Nichols Compares Breaking Bad to Tolstoy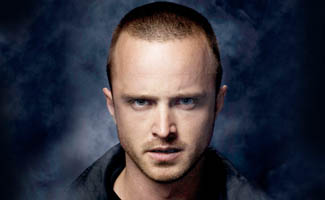 This week Aaron Paul discusses Season 4 with E! Online and Entertainment Weekly, while filmmaker Mike Nichols shares with indieWIRE that he's a Breaking Bad fan and compares the series to Tolstoy.
• E! Online has Aaron Paul commenting about the Season 4 premiere, "I cannot wait to see or hear people's reactions for the first episode because they are going to lose it, in the best way possible."
• Aaron Paul tells Entertainment Weekly he's addicted to the prop meth used in the series: "Whenever the blue meth is on set, I am constantly eating it. It's cotton candy-flavored rock candy. They dye it a little bit, but I don't care — I just eat through the dye."
• According to indieWIRE, director Mike Nichols cites Breaking Bad as an example of what's good about cable TV: "That's a whole thrilling new form that I really enjoy, about four to five shows, that really are Tolstoyan in their endless development and surprises and changes."
• Made Man lists the lessons it's learned from Walter White, including "If You Can Pull Off The Shaved Head, By All Means Go For It."
• CNN's summer TV preview calls Breaking Bad "riveting." Meanwhile, the Modesto (Calif.) Bee's preview lauds Bryan Cranston's "amazing" performance "with great writing to match."
• The Detroit Free Press is looking forward to Breaking Bad, particularly "the complex chess match between these compelling characters [Gus and Walt, which] should be breathtaking."
• The Toronto Star calls Breaking Bad "my absolute favourite show on TV."
• Cinema Blend compliments Breaking Bad as "one of those shows that really does live up to the hype."
• The Today Show names Walter White one of TV's worst dads. (Don Draper of Mad Men makes the list too.)
• Breaking Bad's executive producer Mark Johnson tells The Hollywood Reporter, "One of the things you get on AMC is the freedom to have the courage of your convictions." (No Link)
• Inside Pulse continues its Breaking Bad reviews, focusing on Season 1's "Crazy Handful of Nothin'" and "A No-Rough-Stuff-Type Deal."
• The San Francisco Examiner references Breaking Bad's use of "A Horse With No Name" in "a crucial scene in the greatest series on TV."
• Bryan Cranston talks to ReelzChannel about filming love scenes with Julia Roberts in the upcoming film, Larry Crowne.
• The Wrap reports that Matt L. Jones (Badger) appears in a pilot presentation starring comedian Marc Maron and Ed Asner.
Read More