Press
NY Magazine Plans Breaking Bad Marathon; Washington Post Previews Season 4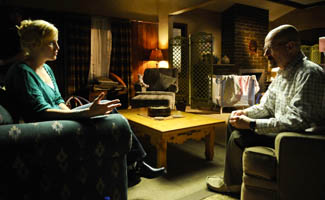 This week New York magazine anticipates Season 4 by laying out a marathon-style training regimen, while the Washington Post previews of the show's return and Bryan Cranston speaks to Rolling Stone.
• It's all in the planning — New York magazine gives new Breaking Bad viewers a crash-course training schedule to watch all three seasons before Season 4's July 17 premiere.
• The Washington Post's list of summer's best TV includes Breaking Bad: "The universe has done everything it can to try to get you to watch one of TV's finest shows, save driving you to Albuquerque and scoring you some meth of your very own. "
• The New York Times declares the wait for Breaking Bad Season 4 "unbearable" in its summer TV preview.
• Rolling Stone interviews Bryan Cranston, who calls Walt the "role of my life" and says if anything comes after this, "it'll be like: Would you like more gravy on your gravy on top of your meat?" The magazine also compares the show to The Godfather and The Sopranos, prompting Vince Gilligan to comment, "If you're going to steal, steal from the best." (No Link)
• Bryan Cranston tells MovieWeb that any character on the show can go at any time: "We never know from one episode to the next who is becoming more susceptible to extinction." Of a death that's coming in the Season 4 premiere, Cranston tells TV Guide, "You will just throw yourself back in the chair."
• The Philadelphia Inquirer declares that Breaking Bad "will be the best series on television" upon its return. The Omaha World-Herald says Breaking Bad "ups the credibility factor of summer fare."
• Entertainment Weekly's take on the Breaking Bad's Season 4 poster, which features Bryan Cranston: "I feel like I'm in big trouble just looking at him!"
• Variety talks about Bryan Cranston finally getting recognized with an Emmy for Breaking Bad after being passed over three times for Malcolm in the Middle.
• USA Today says the newly-released Breaking Bad Season 3 DVD is a chance to "catch up on one of television's best dramas, which just keeps getting better." The Plain Dealer's DVD review says, "This darkly comic AMC drama never ceases to impress." DVD Talk thinks "the last two episodes of Breaking Bad's third season are better than any movie I've seen this year." In its DVD review, The Huffington Post sings Breaking Bad's praises: "The best show on TV right now, bar none." The Kansas City Star describes the drama as "paralyzingly good." The Lincoln Journal Star calls Breaking Bad "unlike any show on TV, darkly comedic but unbearably suspenseful."
• E! Online is hosting a deleted scene from Breaking Bad Season 3, which is featured in the DVD set.
• Inside Pulse praises Breaking Bad's pilot episode, saying, "At the end of the episode, you don't doubt Vince Gilligan or the cast. All the pieces are there for a great show…"
• indieWIRE reports that Red Tails, a film featuring Bryan Cranston and produced by George Lucas, will be released in January 2012, according to a tweet from the film's director.
• The new Green Lantern: Emerald Knights DVD has a sneak peak of Batman: Year One, including an interview with Bryan Cranston, DVD Talk reports. ComicsAlliance says Cranston makes it clear his character Jim Gordon is "just as much a star (if not more) in the film as Batman."
• The Grand Rapids Press reports that Bryan Cranston's upcoming thriller Leave will screen this weekend at Michigan's Waterfront Film Festival.
• Bryan Cranston reminisces with Fox Sports about Kirk Gibson's famous home run in the 1988 World Series. FOX Sports Arizona also has a 30-minute, uncut version of an interview with Cranston.
• Charles Baker (AKA Skinny Pete) talks to the Fort Worth Weekly about his starring role in James Johnston's film, Knife, and reveals he'll be in a yet-to-be-titled Terrence Malick movie (a move that "may help bring Breaking Bad fans into the ever-growing fold of Malick obsessives," according to indieWIRE).
Read More