Press
EW Lands Season 4 Scoop; New York, USA Today Anticipate Season Premiere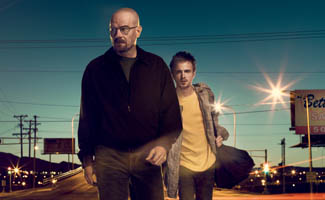 This week's announcement of the Season 4 premiere date and the release of a trailer touches off a wave of enthusiasm from a multitude of publications, while Entertainment Weekly goes straight to Vince Gilligan, Bryan Cranston and Aaron Paul to get information on what's going to happen in the new season.
• Entertainment Weekly has the inside scoop on Breaking Bad Season 4 from Vince Gilligan, Bryan Cranston and Aaron Paul. Says Gilligan, "Much of Season 4 is Walt's effort to get out from under and overcome in a very dangerous battle of wills." The magazine also has afeature on the "Summer's Most Addictive Show" where Gilligan shares, "In some sense, season 4 is a Frankenstein story, in which the scientist becomes afraid of his creation." (No Link)
• News of the Season 4 premiere prompts New York magazine to wax poetic about Breaking Bad's "thrilling sense of impending doom that gets magnified and distorted through images and imagery of reflection." USA Today's preview calls Breaking Bad a "searing study of desperation."
• The Daily Beast's summer TV preview asks about Breaking Bad, "What new dangers will the latest season contain for Walter White?"
• To Collider.com, Bryan Cranston says of Walt in Season 4, "he needs to truly embrace who he is and what he is capable of in order to survive." Cranston also has a spoiler and previews the new season to MovieWeb and talks to UGO about Walt's war with Gus.
• HitFix states unequivocally about Breaking Bad, "The best drama on TV can't get back soon enough for my money." TheWrap calls Breaking Bad "yet another AMC series with which we are obsessed." /film thinks, "in terms of pure tension and impossible situations, there's nothing like [Breaking Bad] on TV."
• The Star-Telegram is "antsy in our anticipation" of Breaking Bad Season 4. IGN "can't freaking wait" for Breaking Bad, enthusing, "we're just psyched to have Walter White and Jesse Pinkman back, even though we're terrified to see what might happen next for them."
• Buzzfocus declares of the return of Breaking Bad, "The summer television season is almost here." Collider.com advises, "It's time for fans of AMC's Breaking Bad to get out their calendars." The Detroit News predicts, "Walt (Emmy-winner Bryan Cranston) is going to be so big and bad in season four. You'll see."
• Guillermo del Toro tell the UK's Independent he is a fan of Breaking Bad: "I love the hard-wired Walter White character… I find it fascinating to watch how incredibly regimented a life can be when a character starts to think his days are over, and he decides to change everything out of a sheer impulse."
• In its review of Drive, Las Vegas Weekly mentions that Bryan Cranston does "terrific work."
• The A.V. Club says Seinfeld's Tim Whatley was "played by the wonderful Bryan Cranston… I think even after years of Malcolm in the Middle it was one of Cranston's best-known roles (now we're all terrified of him because of Breaking Bad, of course)."
• IndyStar reports that Dean Norris took a few laps with Mario Andretti last weekend at the Indy 500, calling the experience "unbelievable."
• The New York Times reports that Krysten Ritter (Jane) will appear this summer on the New York stage in Zach Braff's play All New People.
Read More