What You're Saying About NY Mag's New Behind-the-Scenes Photos for Season 4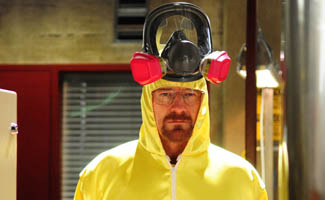 Last week New York magazine's Television issue broke with the first pictures from the set of Breaking Bad Season 4. The show's fans were understandably excited at the sneak peek, quick to comment on their favorites and share theories as to what the images may portend. Now it's your turn to sound off in the comments section below.
• "Jesse in a buzzed shaved head and a five o'clock shadow holding a revolver… Mike has a cut ear, probably grazed from a bullet. Check 'em all out, yo!" — Quebrando Mal
• "My heart is in the pit of my stomach with that Jesse shot… The part of me that has endlessly hoped for a lil salvation for Jesse now wonders if we'll see him sink darker and deeper so Walt might be saved… Oh boy, it's gonna be a crazy season." — Pamala
• "Great to finally get a peek at the new season… That photo of Jesse has me pretty excited. It makes me think of all sorts of things. Though I can't help but think that it might mean bad news between him and Walt." — Nohmann
• "Those pix are intriguing! And very captionable. Hmmm." — rockmama
Log onto the Talk forum to join in any of these conversations or start a Breaking Bad topic of your own.
Read More