Press
New York Magazine Profiles Gilligan; Daemon's TV Ranks Breaking Bad No. 2 on All-Time List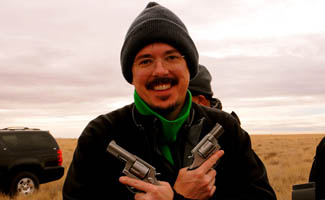 This week New York Magazine pays close attention to Vince Gilligan and Breaking Bad, while Daemon's TV puts the show at No. 2 on its list of TV series to last the rest of your life.
• Vince Gilligan is prominently featured in New York magazine's TV issue, in which he says of Season 4, "Walt's relationship with Jesse gets tested to a degree it's never been tested before. Their partnership gets very tricky. In a sense, the student becomes the master this season."
• New York magazine also has behind-the-scenes photos from the set of Breaking Bad, including one of Vince Gilligan and Bryan Cranston dressed in their yellow Tyvek suits.
• Last but not least, New York magazine's examination of AMC discusses the genesis of Breaking Bad at the network: "One acclaimed hit series was arguably a fluke," the article says, referring to Mad Men. "Two back-to-back was something else."
• Daemon's TV ranks Breaking Bad No. 2 on its list of "Seven TV Shows To Last You A Lifetime", citing Bryan Cranston's performance, which is "is outshining almost all other male performances not only in recent television (arguably all of television history), but in recent movies too."
• Survivor's Jeff Probst tells TV Guide he can relate to Walter White: "I'd like to think I'd do something similar if I found myself in his situation."
• The Hollywood Reporter states that Breaking Bad was one of the most improved TV series in media agency Optimedia U.S.'s recent Content Power Ratings.
• RopeofSilicon.com has a new clip from Drive that features Bryan Cranston. The publication's review of the film's Cannes screening calls Cranston's performance "excellent."
• Public Radio Exchange has an interview with Bob Odenkirk from the WTF with Marc Maron series.
• Bob Odenkirk is set to participate in Radio Bloomsday next month, according to Broadway World and Playbill.com.
• Capsule Computers interviews Danny Trejo (Tortuga) about his role on the Call of Duty: Black Ops zombie expansion pack, in which he says "I'm amazing with a machete."
• A Variety article mentions Breaking Bad in its story on Miramax's revival and how the studio is "looking for risky and original TV programs."
• A WebProNews article about social networking and TV shows proclaims, "If you don't watch Breaking Bad, you are doing yourself an enormous disservice."
Read More