Press
Vanity Fair Spotlights Paul; Gilligan Talks Season 4 on SpoilerTV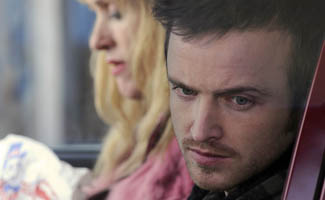 This week Aaron Paul gazes from the pages of Vanity Fair in a feature article while Vince Gilligan talks Season 4 in a video obtained by SpoilerTV.
• Vanity Fair interviews Aaron Paul, who says that because of Breaking Bad "I'll get bombarded by people who, when they're breaking the ice, ask if I can hook them up with drugs." (No Link)
• SpoilerTV has video of an interview with Vince Gilligan, in which the Breaking Bad creator hints that Season 4 will be darker than previous seasons.
• FOX Sports Arizona catches up with Bryan Cranston and calls Breaking Bad "lightning in a bottle."
• Examiner.com reports on a charity softball game between the Breaking Bad crew and that of USA's In Plain Sight, which the former lost 5-4 despite "great defense" from Giancarlo Esposito. Albuquerque's KRQE and the Albuquerque Isotopes website had more on the game.
• TV Squad lists Breaking Bad's Season 3, Episode 7, "One Minute," as "the culmination of years of world-building, character development and thematic construction."
• The New York Times refers to Breaking Bad while stating that channels like AMC "have provided something of a blueprint" for other cable networks.
• indieWIRE says Drive director Nicolas Refn pursued Bryan Cranston "aggressively" for the movie: "After we closed the ?nancing, it was like 'okay, who would I like in this movie besides Ryan [Gosling]?,' and Bryan was someone that I went for like a hawk." Toronto's Globe and Mail picks Cranston's Drive as one of the "most intriguing movies" coming to Cannes, while Collider.com provides new images, including a couple of Cranston.
• A Larry Crowne set visit from ComingSoon.net reveals that Bryan Cranston is "an old friend of [Tom Hanks], who he was more than happy to ask to appear in the production."
• TV Fanatic and TV Squad were thrilled by a reference to Breaking Bad in this week's episode of NBC's Chuck.
• A.V. Club's recap of this week's episode of How I Met Your Mother gives Bob Odenkirk "the performance of the night." Hollywood.com compliments Odenkirk's "really strong acting," while TV Squad says Odenkirk's performance "made me miss watching him as Saul Goodman on Breaking Bad."
• Daemon's TV mourns the passing of Dean Norris's recurring character on CSI: "I was always excited to see him pop up. It could be that I've just been so starved for anything related to Breaking Bad."
• Along with "just about every other admirable character actor or noteworthy supporting player under the sun," David Costabile (Gale) has been cast in Steven Spielberg's Lincoln, Screen Rant reports.
Read More