Press
Breaking Bad Stars Appear on the Big Screen in Summer 2011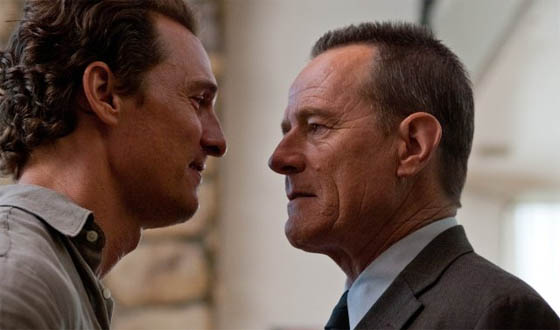 This summer Breaking Bad returns for a fourth season. But AMC isn't the only place the show's talented actors will be headlining. Indeed, the cast is starring in a litany of movies over the coming months, from Emmy-winner Bryan Cranston in Larry Crowne (with Julia Roberts, no less) to Dean Norris in Prom.
Bryan Cranston, The Lincoln Lawyer
In Theaters: Currently
Breaking Bad's leading man has so many upcoming projects that soon, he might beat Kevin Bacon in a game of "Six Degrees." First up, Cranston plays hard-ass homicide detective Lankford opposite Matthew McConaughey in The Lincoln Lawyer. Walter White as a tough-guy cop? You can't typecast this man.
Dean Norris, Prom
In Theaters: Currently
Finally, a chick flick worth checking out for guys. Sure, the recently-released Prom is filled with giggling girls, but it also features Dean Norris dispensing fatherly advice to Aimee Teegarden. God help any date who misbehaves with this guy's daughter!
Krysten Ritter, Killing Bono
In Theaters: June 2
The "true-ish" tale of two brothers who dream of becoming rock stars only to be thwarted by high school chums U2 is getting its U.S. premiere this summer. In it, the actress who was Jesse's love interest in Season 2 plays Gloria, the next-door-neighbor-turned-band-manager. Here's hoping that being a roadie is a drug-free character for Ritter.
Steven Michael Quezada, Warrior Woman
In Theaters: June 4
The man once known as Gomez gets in touch with his feminine side playing Miguel in this indie flick — filmed in Breaking Bad's New Mexico — which follows a breast cancer survivor whose dreams lead her to an offbeat group of women who help her deal with her fear.
Bryan Cranston, Larry Crowne
In Theaters: July 1
In his second summer flick, Cranston plays a self-professed "jerk" who's married to Julia Roberts. Though he's all-but-sure to lose the girl to Tom Hanks, Cranston still gets a love scene with Roberts, which promises to be worth the price of admission.
Bryan Cranston, Drive
In Theaters: September 16
This marks Cranston's second time in something called "Drive." The first was an X-Files episode that Vince Gilligan penned (and which led to the two teaming up again for Breaking Bad). Little is known about Cranston's role in Drive — about a Hollywood stunt guy who moonlights as a getaway driver — except that his co-star is Mad Men's Christina Hendricks.
Read More