What You're Saying About Colors on Breaking Bad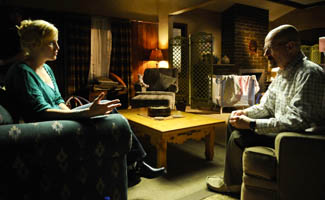 The commenters this week talked blues and greens as they mused about the colors that some of the show's characters wear on a regular basis.
• "In the Pilot, Skyler wears an intense-colored blue top. It struck me because blue seems to be connected with this character ('out of the clear blue sky') throughout the series… And Jesse's loud-colored clothing pre-rehab… and mute colors post-rehab." — cherandbuster
• "As the show progresses so does the color of [Walt's] clothes from the color green to a gradual descent to black as he descends into darkness…the color green symbolized life for him and his go-ahead in pursuit for money. Green is the color of life and that's what he's after, away from his milquetoast life and a desire for control." — Quebrando Mal
• "The whole color thing is interesting. I'm guessing those palettes are gonna start getting a lot darker as the stuff hits the fan." — Catnip
Log onto the Talk forum to join in any of these conversations or start a Breaking Bad topic of your own.
Read More