What You're Saying About Symbolic Imagery in Breaking Bad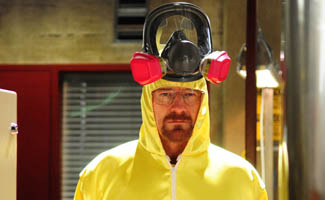 The commenters this week discussed some of their favorite symbolic images on the show, and what each might mean.
• "Those respirators w/ red filters… in the 'Fly' episode, Jesse wears it on his head, actually resembling a fly. The red filters look like the fly's eyes. Therefore it could be symbolic implying that Jesse is/was the fly… The fly itself represents something, I think guilt." — BB1313
• "In the Pilot ep when Walt raises the gun there is a rock formation to his left that looks like a gun pointed at his head. That whole scene was awesome." — Tony Almeida
• "I also like the image of Walt's shoe stuck in the food store's automatic door. The door keeps opening and closing on it while Walt walks around naked in a Fugue state. It seems to suggest Walt is between worlds and has not decided where to go." — bullieboi
Log onto the Talk forum to join in any of these conversations or start a Breaking Bad topic of your own.
Read More