Press
Breaking Bad Season 3 Now Available for Pre-Order on DVD and Blu-Ray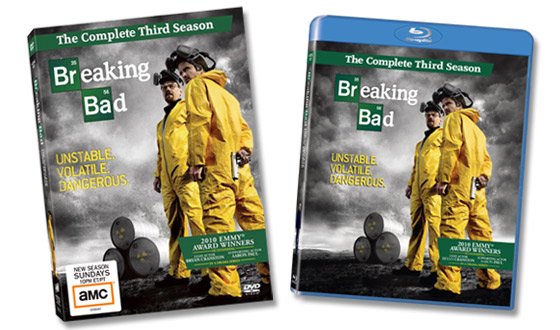 Viewers can relive the darkest and most dangerous season yet when Sony Pictures Home Entertainment brings Breaking Bad: The Complete Third Season to Blu-rayTM and DVD on Jun. 7 — just prior to the start of the show's fourth season. The critically acclaimed AMC series stars Bryan Cranston, winner of three Best Actor Emmys® for his role as Walter White, chemistry teacher turned drug dealer and Aaron Paul (TV's Big Love), Emmy winner (Best Supporting Actor) for his portrayal as Walter's partner-in-crime, Jesse Pinkman. The third season release is packed with special features including deleted scenes, outtakes, cast and crew commentary on nine episodes, five all-new behind-the-scenes featurettes, 20 episodes of Inside Breaking Bad and much more! Breaking Bad: The Complete Third Season DVD will be available for $39.95 SRP, while the Blu-Ray release will sell for $49.95 SRP. (Click here to pre-order the set from Amazon.com)
Created by writer/director/producer Vince Gilligan (TV's The X-Files), who also serves as executive producer with Academy Award® winner Mark Johnson (Rain Man, 1988 Best Picture), Breaking Bad follows the story of Walter White (Cranston), a high school chemistry teacher who discovers he is dying of lung cancer. Desperate to pay for his cancer treatments and to secure his family's financial security, Walt discovers a new sense of fearlessness. He teams with former student, now drug dealer Jesse Pinkman (Paul) to use his scientific knowledge for financial gain, but soon finds he's trapped in a sinister world of drugs and crime.
SYNOPSIS:
Winner of two 2010 Emmy Awards, including Outstanding Lead Actor in a Drama Series for Bryan Cranston and Outstanding Supporting Actor in a Drama Series for Aaron Paul, Breaking Bad: The Complete Third Season returns, hailed by the Los Angeles Times as "the best show on television." Even though his cancer's in remission, chemistry teacher-turned-meth maker Walter White (Cranston) still can't catch a break. His wife (Anna Gunn) has filed for divorce, his DEA agent brother-in-law (Dean Norris) is out to bust him and a Mexican cartel just wants him dead. But with his family's future still at stake Walt cooks up a deal that will make him a fortune; a scheme with a terrible price.
Breaking Bad: The Complete Third Season episodes include:
No Más
Caballo Sin Nombre
I.F.T.
Green Light
Mas
Sunset
One Minute
I See You
Kafkaesque
Fly
Abiquiu
Half Measures
Full Measures
Blu-Ray & DVD Special Features Include:
Cast & Crew commentary on nine episodes, featuring Vince Gilligan, Bryan Cranston, Aaron Paul, Anna Gunn, Betsy Brandt, Dean Norris, Bob Odenkirk, Jonathan Banks and more!
5 All-New Behind-the-Scenes featurettes:
Hit and Run
The Music of Breaking Bad
White Heat: Cranston on Fire
Pizza of Destiny: Cranston's Greatest Shot
Silent But Deadly: The Brothers Moncada
Outtakes
Deleted Scenes & Unused Footage
Team S.C.I.E.N.C.E featurette
AMC News Visits the Breaking Bad Writer's Room
Mini Video Podcasts for every episode with the Cast and Crew
Inside Breaking Bad: 20 episodes that give a behind-the-scenes look of what it takes to create an episode
Exclusive to the Blu-Ray:
Breaking Bad Cast and Crew Photo Collection
Click here to pre-order Breaking Bad: The Complete Third Season on DVD
Click here to pre-order Breaking Bad: The Complete Third Season on Blu-Ray
Read More