Press
Lincoln Lawyer's Connelly on Cranston; Banks on Modern Family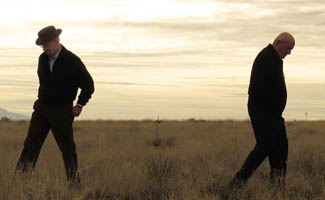 This week Michael Connelly writes in the St. Petersburg Times about watching the filming of his book The Lincoln Lawyer and Jonathan Banks appears in an episode of ABC's Modern Family.
• Writing in the St. Petersburg Times about the film adaptation of his novel, The Lincoln Lawyer, author Michael Connelly was "at a loss for words" after watching Bryan Cranston deliver "the line of the movie."
• Jonathan Banks appears on Modern Family this week, with afterelton.com hoping "Banks' appearance will make that wait for the next season of Breaking Bad a little easier." A.V. Club recaps the episode, noting that Banks is "better known as Mike the hitman from Breaking Bad, which renders each of his appearances on screen somewhat terrifying." TV Squad compliments him as "a great choice." TV Guide asks, "who knew he could be so funny?"
• Studio 360 with Kurt Andersen has a list of everything director Steven Soderbergh read or watched in the last year, including a season of Breaking Bad.
• Deadline reports that Adult Swim has ordered Bob Odenkirk's Regal Productions, a comedy written, produced and starring the Breaking Bad actor. Gather thinks the show "will demonstrate his range perfectly alongside his work in the more serious Breaking Bad."
• indieWIRE talks to actor Danny McBride, who says, "I feel like on TV it seems like people are almost making things more daring then you're even seeing in the cinemas. I mean everything from Mad Men to Breaking Bad to Boardwalk Empire…"
Read More