Press
E! Dishes on Season 4; TV Fanatic Calls Season 3 Best in TV History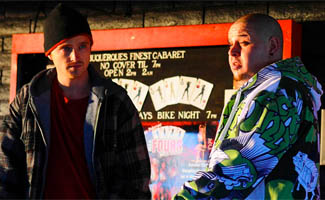 This week E! visits Breaking Bad's Albuquerque set and comes away with Season 4 details, while TV Fanatic praises Season 3 in advance of the DVD release.
• E! has details on Breaking Bad Season 4, about which Bryan Cranston shares, "Our premiere episode is very shocking."
• TV Fanatic highlights the Breaking Bad Season 3 DVD, calling it "one of the best seasons in TV history. And it will soon be available for perpetual viewing."
• Holy Moly supports Bryan Cranston's casting in the Total Recall remake "as long as Cranston is allowed back in the meth lab at some point for a new series of the AMC show." Salon thinks the news is "Awesome, so awesome," and uses Cranston's new role to discuss the casting of actors you'd least expect to play villains.
• The New York Times reports that newest the Tribeca Film Festival is adding Tony Kaye's Detachment, which features Bryan Cranston (and Mad Men's Christina Hendricks), to its lineup.
• AV Club cites Breaking Bad in its story about TV shows taking chances, saying of Season 3, Episode 10, "Fly", "When Breaking Bad did an episode entirely set inside Walt's lab… I cheered, not really caring that it didn't 'advance the story.'"
• Breaking Bad's chemist adviser tells SmartPlanet.com how she landed this gig and praises the writing team: "They're trying to be very accurate, which really endears them to chemists."
• Debating whether good TV exists, a CliqueClack TV contributor says, "I gotta tell you, Dexter and Breaking Bad might just be the greatest television on right now."
• Novelist Stewart O'Nan talks a little TV with Reluctant Habits, highlighting "the variety, depth, drama and comedy of scripted shows, the best of which — Deadwood, Breaking Bad, Mad Men, Party Down — make reality TV look shallow and silly."
• Den of Geek reviews a Lights Out episode and discusses the importance of a cable series' penultimate episode: "It's a template that works very well, and not coincidentally, is one that has been adopted to stunning effect by the two best cable dramas since The Sopranos, Breaking Bad and The Wire."
• The Albuquerque Isotopes, a minor league baseball team, is hoping to put together a charity softball game where the casts of Breaking Bad and In Plain Sight would play each other, the team's general manager told local TV station KRQE News 13.
Read More