Press
Catch Up on Breaking Bad With Encores Every Wednesday Night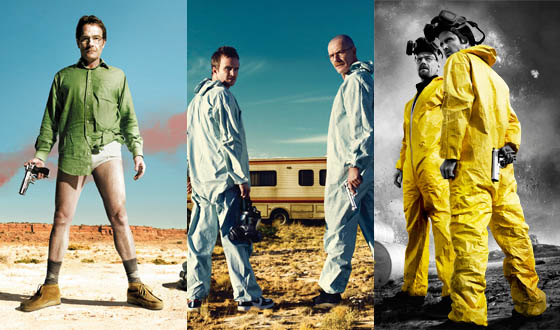 Need to catch up on Breaking Bad before the Season 4 premiere this summer? AMC is airing a four-month marathon of the Emmy Award-winning drama Breaking Bad, featuring all 33 episodes from the series' three seasons. The encores began last week with the critically-acclaimed pilot and Episode 2, "Cat's in the Bag…", and continue at a rate of two back-to-back episodes every Wednesday night through July 2011. This Wed., Apr. 13 at 1:30AM | 12:30C you can catch Episode 3, "…And the Bag's in the River" and Episode 4, "Cancer Man."
Created by acclaimed writer/producer/director Vince Gilligan, Breaking Bad has garnered numerous awards and accolades, and has been heralded as "the best show on television" (Los Angeles Times). Suspenseful, volatile and shocking, Breaking Bad pairs the vibrant look and feel of a modern western with darkly comic moments that show just "how thrilling TV can be when it lives on the edge" (TV Guide).
Throughout the series, Walter White (Bryan Cranston) — an unrepentant 'everyman' — battles dueling identities: a desperate husband and father trying to provide for his family, and a newly appointed key player in the Albuquerque drug trade.
The inaugural season of Breaking Bad premiered in January 2008 to overwhelming critical acclaim from audiences and critics alike. The bold drama has won six Emmy® Awards, a Peabody, multiple Guild Awards, and was named one of AFI's Top 10 Television Programs (2008). The series is produced by Sony Pictures Television.
AMC's Breaking Bad Marathon begins tonight, Wed., Apr. 6 immediately following AMC's Action Pack programming block with the Pilot episode followed by Episode 101, "Cat's in the Bag…" Two episodes will air back-to-back each Wednesday night through July 2011. Click here for a full schedule
Read More