Press
Forbes Discusses Walter White; Cranston Talks Viewing Habits With TV Guide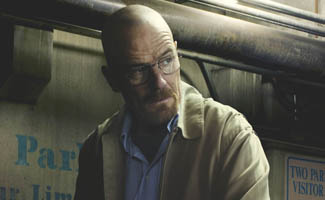 This week comedian Jon Lovitz gives high praise to Bryan Cranston in Starpulse while Cranston talks with TV Guide about his TV viewing habits and Walter White is mentioned by both Forbes and the U.K.'s Guardian.
• SNL alum Jon Lovitz tells Starpulse that Bryan Cranston's acting in Breaking Bad is "as good as anything ever. He's incredible. You never know what's going to happen next and it seems totally real."
• Bryan Cranston reveals to TV Guide that he watches The Wizard of Oz once a year.
• The Guardian includes Walter White in a list of its "favourite" teachers: "Chemistry teacher turned crystal meth cook — 'nuff said."
• A Forbes analysis of teachers, prompted by the Wisconsin protests, mentions teachers portrayed in the media, including "the cancer-stricken chemistry teacher who cooks and sells methamphetamine on Breaking Bad."
• Television Without Pity imagines Ann Perkins (played by Rashida Jones) of NBC's Parks and Recreation in Albuquerque: "Ann needs some excitement in her life, and Jesse would probably like to spend time with someone who is totally unaware of his connections to drugs and crime."
• Tom Kiesche (Clovis) talked to Canyon News about his last appearance, in Season 3, Episode 6, "Sunset," calling it "the best single episode of television that I had ever been in."
• Just Jared reports that Aaron Paul made an appearance at a Fox Searchlight party in Hollywood last week.
• Bob Odenkirk appears in a movie opening today, Take Me Home Tonight, according to the Fort Worth Weekly.
Read More