Uncategorized
Q&A – Michael Shamus Wiles (ASAC Merkert)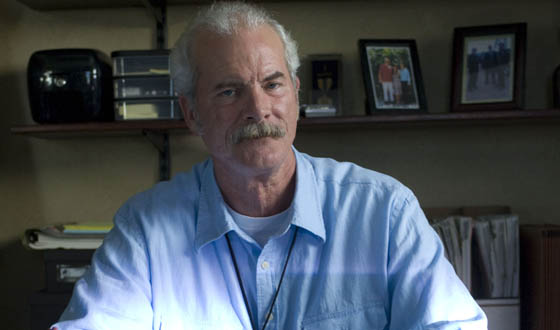 The veteran actor discusses what makes him a go-to for casting directors looking for cops and describes how Bryan Cranston welcomes guest actors to his shows.
Q: You get cast a lot as a cop. Why do you think that is?
A: Well I'm assuming it's because I'm six-foot-three, I've got this hatchet face that looks like five miles of dirt road, and a commanding presence. That's what I'm thinking.
Q: That could have something to do with it. Six-foot-three?
A: Well, that's in the morning. By the end of the day I'm beat down to about five-nine.
Q: How is Merkert different from the other lawmen you've played? His mustache?
A: He does have a mustache. Originally they had cast another actor in this role and he was unable to do it. I got this call from Sharon Bialy, who does the casting, saying, "What are you doing in two days?" and I'm like, "Probably laundry and grocery buying." She said, "I have this role. It's a guaranteed two shows." Vince had been one of the producers/writers on The X-Files and I had done the first X-Files movie and some of the episodes, so virtually without having to read for it I got cast. I said, "I've got a mustache" and she said, "Go in with it and we'll see what happens."
Q: And now he's your most recurring character. How has it been to keep coming back to the same show?
A: I'm really happy about that. Initially, he seemed very stern and kind of withdrawn. Along the line of this journey of Hank's, being on almost this huge quest to get Heisenberg, I've been able to start showing more of the feelings that Merkert has for Hank. I really feel Hank is his protege and is a really sharp, intelligent agent. I like that you've been able to see that expand. There's a bond between these guys.
Q: Did you do anything to help create that bond with Dean Norris?
A: We found out that we both grew up in southwestern Michigan, probably about forty or fifty miles from each other. We had a lot of stories to share about growing up in that area and I just get the biggest kick out of Dean.
Q: That's funny because Betsy Brandt, who plays his wife Marie, is also from Michigan.
A: This is another thing I've liked with Merkert. Used to be the only time you saw him was in his office. Last season he actually got out. When you see him at the hospital after Hank has been shot, that was the first time I got to interact with the other members of the cast, and Betsy and I found we had a lot of common Michigander experiences.
Q: What is it about being from Michigan that is so right for Breaking Bad?
A: I don't know, but I'm not complaining.
Q: You did two episodes of Malcolm in the Middle. Did you work with Bryan Cranston on that show?
A: No, but if you were hired as a guest actor at the time you would get this postcard from Bryan Cranston and Jane Kaczmarek, who played the mom, saying, "We're so happy you're on the show. Congratulations. Don't mess it up." Which I thought was hilarious and totally apropos.
Q: Merkert says Hank is like a shark in his pursuit of his prey. Are you that determined when pursuing something in your own life?
A: To a certain extent. You make your own opportunities and you've got to be relentless. I talk about the '80s being my lost decade, and I don't mean I was off on a bender. I had been trying to get involved in the business and it just did not seem to be happening. Finally, I had done a play and the guy who had written the play was doing this TV movie. They had me in to read as second bad guy to Michael Ironside and I ended up getting cast. But I had to work really hard and long to get to that first one, to be ready when that opportunity did come along.
Q: You were a shark in pursuit of your acting career?
A: I was. And luckily I didn't get harpooned.
Q: What would you like to see happen with Merkert next season?
A: This whole trajectory of Bryan's character and Dean's character is moving closer and closer and somewhere there is going to be a collision down the road. Hopefully Merkert is involved in that episode. That would be nice.
Click here to read an interview with Dean Norris (Hank Schrader).
Read More