Press
Breaking Bad Nabs Five Saturn Awards Nominations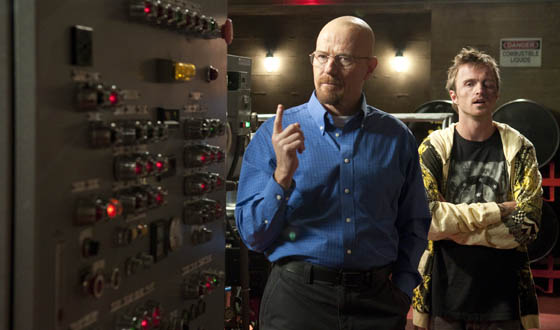 The Acacemy of Science Fiction, Fantasy & Horror announced today the nominees for this year's 37th annual Saturn Awards, and Breaking Bad was honored with a total of five nominations across categories such as Best Syndicated/Cable Television Series, Best Starring Role in Television and Best Actor and Supporting Actor in Television.
Breaking Bad's nominations are among 11 garnered by AMC this year — more than any other television network. In the acting categories, Bryan Cranston (Walt) was nominated for Best Actor in Television. Cranston's co-stars Aaron Paul (Jesse) and Dean Norris (Hank) received Best Supporting Actor nods, while Giancarlo Esposito (Gus) was nominated for the Best Starring Role in Television category.
Competing with Breaking Bad and its respective stars will be such series as ABC's Lost, Fox's Fringe, Showtime's Dexter and HBO's True Blood and AMC's own The Walking Dead.
The 37th annual Saturn Awards will take place in June in Burbank.
Read More