Press
Breaking Bad No. 2 on Screen Junkies All-Time List, Cranston Talks Season 4 With EW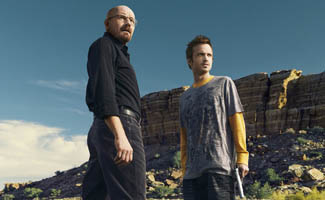 This week Screen Junkies honors Breaking Bad with the No. 2 spot on its ranking of the best dramas of all time, while Bryan Cranston gives a Season 4 tidbit to Entertainment Weekly.
• Screen Junkies ranks Breaking Bad at No. 2 in its list of the 10 best drama series of all time (No. 1 is The Sopranos), remarking, "It's really about good people doing bad things, all across the board."
• Entertainment Weekly has Season 4 scoop straight from Bryan Cranston: "…in the first episode of the season, there is a very unexpected turn of events, and one of our characters who has been on the show several times finds a possible demise."
• In a Wall Street Journal Q&A with Samuel L. Jackson, the actor says he loves Breaking Bad.
• LatinoReview.com has a trailer for Bryan Cranston's upcoming The Lincoln Lawyer, due in theaters March 18.
• Michigan's Bay City Times interviews Betsy Brandt, who says of Marie, "I felt pretty comfortable with creator Vince Gilligan, that I could make some bold choices with my character and he wouldn't let her be just one note."
• The Los Angeles Times profiles Spooge's woman, AKA Dale Dickey, who's getting kudos for her role in the Oscar-nominated Winter's Bone. She feigns mock horror that she gets recognized for Breaking Bad: "I'm like, 'Really? After three hours of meth makeup?"
• EW reports that Krysten Ritter (Jane) has been cast as an "out of control NYC party girl" in an ABC pilot, Don't Trust the Bitch in Apartment 23.
• The Los Angeles Times' Brand X features Bob Odenkirk and his wife in an article on Los Angeles' hottest heavyweight couples.
Read More