What You're Saying About Walt's Cashflow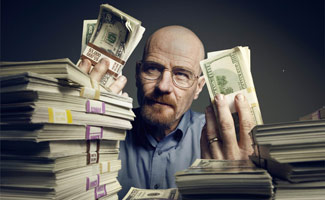 Although the Season 2 encores have just begun, Breaking Bad commenters were wondering this week about just how much money Walt has earned while in Gus's employ.
• "When Walt started to work with Gus deal was for 3m$ for 3 months, that means 3m$ each, 6m total. When Jesse toke Gales part, deal was 1,5m$ each. So, did Gus cut 3m off so Walt can take Jesse or Walt is getting his 1,5m plus 3m$?" — SeriousDirt
• "it was in 'Kafkaesque' when Walt approached Gus and it was then when he offered the open ended deal of $15 million [per year] " — Quebrando Mal
• "I don't see how it could be determined without knowing if Jesse knows what Walt's making, and how Walt is now splitting with Jesse. That's assuming the deal with Gus is, Walt's responsible for paying Jesse (I assume Gale was getting paid separately by Gus)." — heisenberg jr.
Log onto the Talk forum to join in any of these conversations or start a Breaking Bad topic of your own.
Read More