Got a Favorite Saul Goodman Quip From Season 3? Let Us Know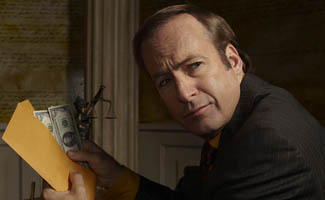 A sharp tongue is a valuable asset for any lawyer worth his salt. For a criminal lawyer, it's downright essential. Thankfully Saul Goodman is always at the ready with sarcastic remarks to police officers ("There are laws detective — have your kindergarten teacher read them to you"), snide nicknames for clients ("Should I call the FBI and tell them I found DB Cooper?") and outright put downs for others ("You two suck at peddling meth").
Got a favorite Saul saying from Season 3? Let us know in the comments section below. (All submissions must include the episode from which the quote is taken). We'll randomly choose one contributor to win a Breaking Bad prize such as a hoodie or a DVD set. In addition, your entries could end up being saved for posterity on the Breaking Bad site.
Read More