Have a Favorite Season 3 Quote From Jesse Pinkman? Share It Now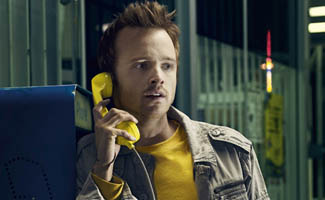 You'd think someone who uses "Yo" so often might have trouble being quotable. Not so Breaking Bad's Jesse Pinkman. Walt's wing man is always at the ready with a well-placed comment, be it a sarcastic jab ("You got jacked by a guy named Spooge?") or an excited remark about his business partner ("Yeah Mr. White!.. Yeah science!").
Got a favorite Jesse-ism from Season 3? Let us know in the comments section below. (All submissions must include the episode from which the quote is taken). We'll randomly choose one contributor to win a Breaking Bad prize such as a hoodie or a DVD set. In addition, your entries could end up being saved for posterity on the Breaking Bad site.
Read More