Got a Favorite Season 3 Hank Quote? Share It Here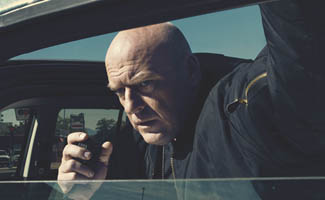 In Breaking Bad Season 3, DEA agent Hank Schrader truly becomes a man on a mission, a man obsessed with tracking down the source of that damned blue meth. And while his greatest moment of the season might be that silent-but-deadly confrontation with the Cousins, the rest of the time the boisterous take-no-guff Hankster is oh-so-quotable with a string of unforgettable one-liners.
Have a favorite Hank Schrader quote from Season 3? Let us know in the comments section below. (All submissions must include the episode from which the quote is taken). We'll randomly choose one contributor to win a Breaking Bad prize such as a hoodie or a DVD set. In addition, your entries could end up being saved for posterity on the Breaking Bad site.
Read More