Press
Breaking Bad Lands Three WGA Nominations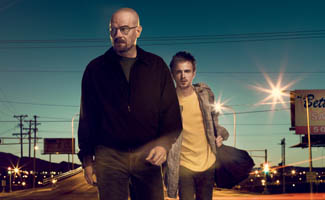 Today the Writers Guild of America (WGA) announced its nominees for outstanding achievement in television, radio, news, promotional writing, and graphic animation during the 2010 season. AMC's Breaking Bad was honored with three nods: one for Best Dramatic Series and two for Best Episodic Drama. This marks Breaking Bad's third straight nomination in the former category and the fourth and fifth consecutive nods in the latter.*
Breaking Bad writers Vince Gilligan, Sam Catlin, Peter Gould, Gennifer Hutchison, George Mastras, Tom Schnauz, John Shiban, and Moira Walley-Beckett were listed on the Best Dramatic Series nomination. Together they will compete against HBO's Boardwalk Empire, Showtime's Dexter, NBC's Friday Night Lights, and AMC's own Mad Men for the prestigious award.
In the Best Episodic Drama category, Breaking Bad received two nominations, one for Season 3, Episode 3, "I.F.T.," written by George Mastras; and the other for Season 3, Episode 8, "I See You," written by Gennifer Hutchison. Other series nominated in this category include Fox's House, ABC's Lost, CBS's Good Wife, and AMC's own Mad Men.
In addition to these nods, AMC also received a Best New Series nomination for The Walking Dead, which recently completed its first season run.
The 2011 Writers Guild Award winners will be announced during a ceremony on Sat., Feb. 5, simultaneously at the Renaissance Hollywood Hotel's Grand Ballroom in Los Angeles and the AXA Equitable Center in New York City.
*In 2009, series creator Vince Gilligan received the Best Episodic Drama award for Season 1's pilot, which airs on AMC tonight, Weds., Dec. 8, at 12:30AM | 11:30C, and is also available for viewing online.
Read More