Interviews
Q&A – Tess Harper (Mrs. Pinkman)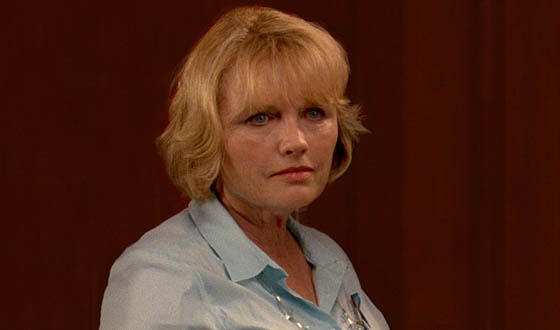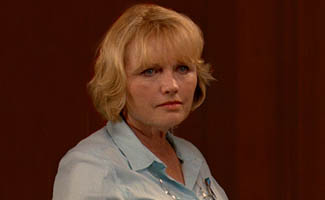 Every Wednesday night, AMC continues its re-broadcast of all three seasons of Breaking Bad at a rate of two back-to-back episodes per week. As part of the Breaking Bad encore experience, AMCtv.com is interviewing the show's talented supporting cast. This week, Tess Harper describes how she copes with the desert's bleakness, her own acts of youthful rebellion and her irresistible compulsion to mother Aaron Paul.
Q: What's it like to shoot in New Mexico?
A: Well, you get out in that desert and it's bleak. It's overpowering. A man in that landscape is very small. It's scary to me because I grew up in hills [of Arkansas]. That's way too much open space.
Q: And yet, when Hank visits Mrs. Pinkman, she's working in a surprisingly lush yard. Did you notice that she'd surrounded herself–
A: By green? To get her out of the desert? She certainly can't deal with bleak. What makes Albuquerque an inhabitable town is that the Rio Grande runs through it. When you fly into Albuquerque you see the desert and then you see this lush band right along the river. Those houses down there are just perfect for the Pinkmans. It was like, "Please don't tell me any bleak news. I want my flowers."
Q: Do you enjoy gardening as much as she appears to?
A: I have a vegetable garden in back. It's for my grandmothers; I have to pay tribute to them. It is a very calming activity. It's one of those things that you have to concentrate just enough that it takes you out of whatever other worries you have.
Q: Could you relate to what Mrs. Pinkman is going through? Have you ever tried to help someone with an addiction?
A: I have. I pretty much tell people they have an option if they want it, and hope they can find where they need to be to start on the road back. And sometimes they don't. There's a wonderful book I read once where the lead character used to say, "A thing can only be what it is." All the help in the world goes out the window until the person is ready to receive it, hear it, or commit to do the work themselves. And meth is a horrible addiction in that it actually alters your brain. The brain doesn't go back to who they were before. It's made with poison. Meth is a complete creation of chemistry.
Q: If you met Mrs. Pinkman what advice would you give her?
A: I don't know that [Jesse's parents] could have done anything differently. And the whole thing with his aunt's house: They threw him out because there was a meth lab in the basement! [Laughs] And then he bought the house out from under them. When he comes in with the keys and just walks right past them and goes into the house, that's just — I don't know what you do about that.
Q: Do you ever look back on your youth and think you could have ended up like Jesse?
A: I was very lucky. I know I have an addictive personality, but I didn't have the money when I was young to indulge it. I am a very independent person, so I couldn't imagine being dependent on anything or anyone. The idea that I couldn't stand on my own two feet would be so terrifying for me that I couldn't do it. And I was raised to believe that whatever I was doing my mother would know about it two minutes after I did it. That kind of keeps you on the straight and narrow. [Laughs]
Q: What kind of things did you do to test your parent's patience?
A: I have a good, basic fundamentalist upbringing, so any act of rebellion was huge for me. In college, going to my first bar, taking my first drink — all of that was an act of rebellion; also cursing, which I took to like a duck to water and still do.
Q: Did you find yourself giving Aaron Paul any motherly advice?
A: He's the sweetest person on the face of the earth. He's so different than the character he plays. How can you not mother someone like that? I just remember, from the first time I saw him, how amazingly blue his eyes were. And he was a little nervous that first year, but he grew into that role. Every year I came back it's more growth.
Q: What's the hardest thing you had to do or say to Jesse?
A: That scene where I'm cleaning out his aunt's house and we have a big confrontation and I slap him. Because you walk a fine line of whether you want this anger to come from frustration or just hurt. And because personally I would just want to beat him silly, but Mrs. Pinkman is not that way. She's horrified when she loses control in that scene. I wanted to beat the crap out of him. This house is a shambles and yet he thinks he has a right to it.
Q: She holds back.
A: She's entirely more saint-like than I am. [Laughs]
Click here to read a Season 3 interview with the actor who plays Mrs. Pinkman's troubled son, Jesse (Aaron Paul).
Read More