What You're Saying About Walt's Future With Gus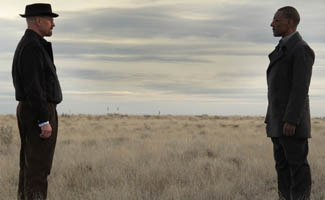 The commenters spent time this week speculating about what shape Walt's future will take — especially with regards to his now-alienated employer.
• "I don't see the writers eliminating Gus for a while, as he is a main character. Maybe they will make Walt a partner and force Gus to work with him." — Tony Almeida
• "The future of Walt (and Jesse) will be about expansion and power. The only way that Walt will be able to survive (at least until he dies from his cancer) is if he evolves into a Gus-like figure who can protect himself and is not at the mercy of being controlled or 'beholden' to anyone for his survival or his fortune." — Jamm56
• "Walt won't have to worry about it because Jesse will take care of [Gus] for him!" — chili p
Log onto the Talk forum to join in any of these conversations or start a Breaking Bad topic of your own.
Read More