What You're Saying About Walt's Body Count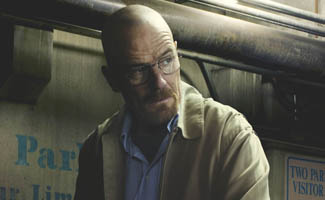 The commenters spent time this week musing about Walt, and how he deals with all the deaths he's caused over the past three seasons.
• "Walt didn't enjoy killing people. He felt he was just making the decisions that circumstances demanded. But, it's gotten so out of hand now that the weight of all that killing may be changing him fundamentally." — rockmama
• "Walt as a murderer had a lot of remorse and guilt, but as Heisenberg he has shed Walt's sense of guilt." — Tony Almeida
• "All the good reasons for Walt's bad behavior that he's embarked on have evaporated as the show has progressed. Walt knows what he's doing is deplorable — you can tell he hates himself for it. At the same time, Walt is 'addicted' to his own power." — kwfilly
Log onto the Talk forum to join in any of these conversations or start a Breaking Bad topic of your own.
Read More