Press
The Hollywood Reporter, NPR and HitFix Rank Breaking Bad as Year's Best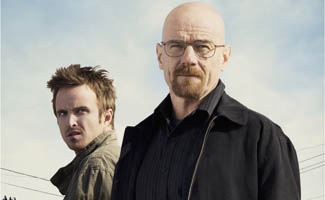 Breaking Bad this week is honored as the best TV show of the year by both The Hollywood Reporter and HitFix, while NPR and TV Squad include the drama as a top pick.
• The Hollywood Reporter places Breaking Bad atop its list of the year's Top 18 TV Shows, marveling, "This riveting and audacious series about life, death and meth just continues to astonish."
• HitFix's Alan Sepinwall places Breaking Bad at No. 1 on its list of the ten best shows of 2010: It "made the leap from very good to worthy of discussion among the all-time great TV dramas." The drama also tops HitFix's list of the best returning shows.
• NPR lauds Breaking Bad as one of the year's top shows, saying that Cranston "commits so highly to [his] role that [he] not only wins our sympathy, but disappears within the part [he's] playing."
• TV Squad thinks the best season of television that flew under the radar was the "heart-attack inducing third season of Breaking Bad."
• MediaBizBloggers includes Breaking Bad as one of 2010's best, noting the drama has "delivered more singularly sensational stand-out episodes than any show since The Sopranos."
• Bryan Cranston talks to New York Magazine about Breaking Bad's summer premiere, which will "attract as many eyeballs as possible, away from the heavy competition of the September, November, January start."
• Look for Dean Norris to appear in an episode of The Defenders, according to TV Guide.
Read More