Press
Breaking Bad Gets 3 Satellite Award Nominations, Stephen King Calls Breaking Bad One of 2010's Best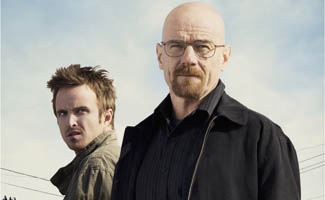 This week Breaking Bad nabs three Satellite Award nominations, while Stephen King and TV Squad both select the series as one of 2010's best.
• The International Press Academy has honored Breaking Bad with three Satellite Award nominations: Television Series, Drama; Actor in a Series, Drama for Bryan Cranston; and Actor in a Supporting Role in a Series, Miniseries or Motion Picture Made for Television for Aaron Paul. The awards will be given out on Dec. 19.
• In Entertainment Weekly, Stephen King places Breaking Bad at No. 3 (behind The Walking Dead at No. 2) on his Best TV of 2010 list. He calls Bryan Cranston "riveting" and Giancarlo Esposito the "smoothest criminal on TV." (No Link)
• TV Squad's list of the best television shows of 2010 includes "AMC's drama trifecta — Mad Men, Rubicon and Breaking Bad," noting "it was impossible not to be transfixed by Walt White's latest round of rationalizations and grim choices, and no show on television has a more distinctive and evocative look."
• Giancarlo Esposito will guest-star in the Dec. 7 episode of ABC's Detroit 1-8-7, according to BroadwayWorld.com.
• The New York Times reports that IFC has acquired the rights to Bob Odenkirk's Mr. Show With Bob and David, a comedy sketch series that aired in the 1990's, which IFC will begin airing Jan. 7. LAist calls the show "a collection of eclectica and absurdity that was ground-breaking both in its intelligence and absurdity," while The Economist remembers its invention of "Mustmayostardayonnaise."
• The Hollywood Reporter writes that cable dramas are "siphoning viewers" at the 10PM hour with "such prestige niche shows as Sons of Anarchy on FX and Mad Men and Breaking Bad on AMC," among others.
Read More