Walter White Is Coming to Town… Via These Breaking Bad Holiday Gifts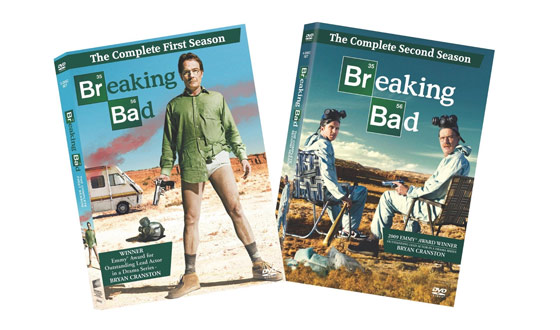 The holidays are here, and with them, the stress of finding the perfect gift. Sure, you could get perfume for her or a tie for him but why not think outside the box this year and incite an addiction to Breaking Bad? Here are some stocking stuffer ideas for everyone on your list.
1. For the Newcomer: Breaking Bad Seasons 1 and 2 DVD Combo Pack
This comprehensive DVD set is the ideal way to introduce a loved one to the world of Walter White. What other present works equally well for people regardless of whether they're "naughty" and "nice."
2. For the Seasoned Fan: Breaking Bad Season 3 DVD Set
The third season has yet to hit stores, so you know your special Breaking Bad fan doesn't already own it. So pre-order Season 3 on Amazon.com, and you'll have the promise of a gift that's sure to please.
3. For the iBad User: The Breaking Bad Soundtrack
If the best things come in small packages, then a soundtrack via iTunes may be the best gift of all since it involves no packaging. Collecting Dave Porter's score, Jesse Pinkman's "Fallacies," Los Cuates de Sinaloa's "The Ballad of Heisenberg" and songs by The Black Seeds, Yellowman and The Walkmen, this digital soundtrack is destined for heavy rotation on each of the recipient's iDevices.
4. For the Ultimate Insider: Vince Gilligan's Anatomy of a Script DVD
What to get the Breaking Bad fan who has it all? How about this special DVD interview courtesy of The Writers Guild Foundation. Curious where all the show's twists and turns originate? Vince Gilligan's discussion with moderator and fellow screenwriter Robin Schiff has some entertaining answers.
Read More