What You're Saying About Discovering Breaking Bad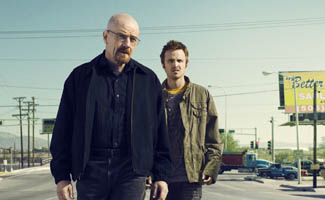 The commenters this week reflected on how and when they first got hooked on Breaking Bad.
• "I first tuned in to this show a little under a week before the second season premiered, when they were showing a Season 1 marathon. Yeah, Science!" — Quebrando Mal
• "The 'teasers' for Breaking Bad and the fact Bryan Cranston had the lead role got my attention! (Unfortunately when the first season rolled around I didn't have cable or satellite.) Got in at the start of the second season and it's never disappointed me!" — diksee
• "At first, there was this middle-aged guy in his underwear standing in the road waving a gun… and I thought, what manner of show is this anyway? Then it dawned there is a progression, a trajectory, at work here and a modern Greek tragedy of epic proportions…" — heisenberg jr.
• "I didn't start watching the show until before the start of Season 3. They ran a mini-marathon and I was hooked." — Tony Almeida
Log onto the Talk forum to join in any of these conversations or start a Breaking Bad topic of your own.
Read More